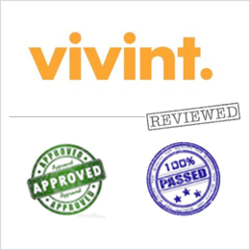 We were amazed by the new direction and technology that Vivint released. The company is definitely making a huge push to become the best in the nation.
Reston, Virginia (PRWEB) August 28, 2012
AlarmSystemReport.com's experts have spoken and Vivint has been declared as the most improved home alarm system company of 2012. Each year, independent experts are assigned the task of ranking the top rated alarm systems in a variety of categories.
Vivint earned "most improved alarm system company" this year by dramatically improving in all areas of its business. The experts found that their alarm systems have improved, their customer service has improved, and even their pricing strategy has improved.
Many consumers might not know this, but Vivint once sold its products under the name of APX. This company had a reputation for poor customer service, average pricing, and mediocre technology. They weren't the worst company in the industry, but they were far from the best.
AlarmSystemReport.com's experts compared the experiences they had with APX versus the experience they had with Vivint and found that this company did more than just rebrand. Vivint took all of the negative feedback they received and used it constructively to make vast improvements to their business.
Technology
Vivint is now using the latest cellular and wireless alarm systems. They've combined these with a home automation system and a very innovative touch screen control panel. In fact, AlarmSystemReport.com found that Vivint is the only company using this advanced touch screen technology in their alarm systems. For this reason the Vivint reviews have rated Vivint very high in the technology category.
Customer Service
The experts at AlarmSystemReport.com secretly spoke with Vivint's customer service team and found them to be "pleasant, yet not overwhelming". This means that the customer service department has definitely improved, but could use a bit more work. Because of this, AlarmSystemReport.com feels that with some more improvement, Vivint will probably move up even further in the rankings of the best alarm system companies.
Pricing
AlarmSystemReport.com found that Vivint had many different pricing packages for customers to choose from. Customers will pay more for home automated systems with remote access than they would for a more basic package. They'll also pay more for a cellular monitored system than a broadband one. This being said, the prices still remain low all around and customers will find that they can save a lot of money on new technology by going with Vivint over the competition.
Homeowners looking to get an instant price quote on Vivint as well as Vivint's competitors can quickly and easily get one by clicking on the "compare quotes instantly" button on AlarmSystemReport.com's Vivint review page. This will give potential customers a great way to get a quick price quote and to get a sneak peek into the customer service department of the newly revamped Vivint.