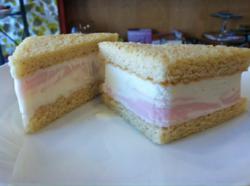 We are calling it 'Sweet Giuseppe' in honor of Giuseppe Cipriani who is said to be the inventor of the Bellini
New York, NY (PRWEB) August 02, 2012
New York dessert artisans Three Tarts are celebrating National Ice Cream Sandwich Day by announcing the winning flavor in their Ice Cream Sandwich Contest. The chefs of the New York City dessert artisans - named one of the top dessert desinations in New York by TimeOut New York Magazine - sifted through hundreds of entries and tested numerous finalists before choosing a winner.
The winning flavor is champagne ice cream with peach swirl and brown sugar cake and was submitted by New York's Matthew Vernon. Entries came in from all across the country.
"We are calling it 'Sweet Giuseppe' in honor of Giuseppe Cipriani who is said to be the inventor of the Bellini," said Three Tarts owner Marla D'Urso.
Bellini is prosecco with white peach puree and the Three Tarts chefs will be using prosecco in this ice cream sandwich, as Marla D'Urso says "...to pair with the light, fruity flavor of summer peaches."
As the creator of the winning flavor, Vernon will receive an ice cream sandwich tasting party for four which will include his flavor and Three Tarts house-made lemonade.
Three Tarts Ice Cream Sandwich Contest also produced two runners up: The first, the "Square Floridian" from Maggie Shaw, consists of key lime pie ice cream with graham cracker cake. The second runner up is called the "Split Personality" sent in by David Ingram and is a caramel ice cream with banana walnut cake sandwich. The two runners up will be notified when Three Tarts produces their creations so they claim their two free ice cream sandwiches.
The other special flavors available on National Ice Cream Sandwich Day include triple chocolate with chocolate cake, rosemary chocolate chip with chocolate cake, ginger honey comb with lemon cake, pumpkin with gingerbread cake and, banana with chocolate cake.
"In honor of our new flavor and National Ice Cream Sandwich Day, Three Tarts will run a special two for one on our house-made ice cream sandwiches today only, and while they last!" said Marla D'Urso.
Three Tarts Bakery & Boutique flagship store is located in the Chelsea section of New York City at 164 Ninth Avenue and can be reached at (212) 462-4392. Their second location, Three Tarts at The Plaza Food Hall, is located at New York's The Plaza Hotel. Three Tarts is also online at Facebook.com/ThreeTarts, and @ThreeTartsNYC on Twitter.