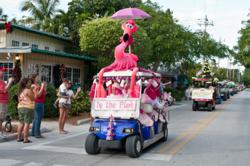 "When you add in all the fun with these three holiday event weekends, Captiva should be at the top of your holiday must-do list; it's going to be one heck of a party this year."
Captiva Island, FL (PRWEB) August 03, 2012
The two-week-long Captiva Holiday Village launches its 2012 spectacular the Friday after Thanksgiving with fireworks, tree lightings, holiday readings and musical performances.
Now in its third year, Captiva Holiday Village is a cooperative event sponsored by hoteliers, merchants, attraction owners and restaurateurs of Captiva Island.
"Captiva is a remarkable island village and known as a magnet for creative people," said Paul McCarthy of Captiva Cruises. "It's famous for its beautiful beaches, wildlife-filled waters, family-friendly atmosphere, and a quirky, relaxed way of life. This island is a perfect place to unwind from holiday stress."
Each special-themed weekend, beginning Nov. 23 through Dec. 8, will be a fun-filled extravaganza of sight and sound, set against the backdrop of the Gulf of Mexico and evening sunsets. During the event weekends, visitors will enjoy everything from decorated golf cart and lighted boat parades to Junkanoo and fire dancers, live music and even a Marching Mullet Parade.
All three weekends of events take place in Captiva's "village" center, where its colorful restaurants and shops will be festively decorated.
The village is the heart of the island: a quirky, colorful, pedestrian-friendly hub where people stroll from place to place, enjoying live music, tropical food and drink and the island's legendary sunsets.
"Captiva is a wonderful contrast from the hustle and bustle of normal daily life," said Jeff Shuff, 'Tween Waters Inn general manager. "When you add in all the fun with these three holiday event weekends, Captiva should be at the top of your holiday must-do list; it's going to be one heck of a party this year."
Back by popular demand, a feature of this year's Captiva Holiday Village is community Chautauqua, offering educational and entertaining workshops, entertainment, films, a carol sing, boat cruises, natural history talks and tastings—all offering locals and visitors a chance to learn more about quirky Captiva.
In addition to Holiday Village festivities, the island offers easy access to an abundance of water sports: kayaking, guided fishing, parasailing, wildlife cruises to the outer islands and world-renowned shelling.
"The village of Captiva is a special place during the holidays," said Captiva resident Nathalie Pyle. "Our entire family is together for the 'Tween Waters fireworks the night after Thanksgiving, and my grandchildren and I love decorating our golf cart and riding in the golf cart parade. The lighted boat parade is another family favorite and, of course, we love singing Christmas carols at the Captiva Chapel by the Sea."
Captiva Island, located on the Gulf coast of Florida adjacent to Fort Myers, is regularly featured in newspapers and magazines around the world. In 2011, Captiva ranked as one of TripAdvisor's Top 10 Travelers' Choice U.S. Beach Destinations.
The small island is also known as a destination for celebrities and creative legends. Visitor lodging options include small inns, deluxe resorts, rental homes and condos and dockage for boats of all sizes.
According to The Weather Channel, the average daily high temperature for Captiva in December is 77 degrees, and it is the driest month annually with just 1.71 inches of rain.
Captiva resorts, inns, cottages and vacation homes will be offering lodging specials in conjunction with this year's third annual Captiva Holiday Village event.
As a highlight of this annual event, once again local hoteliers and restaurants have teamed up to offer six free two-night Captiva Holiday Village weekends for the 2012 event. Online entries are now being accepted at http://www.captivaholidayvillage.com.
The 2012 event schedule is as follows:
Friday, Nov. 23:
'Tween Waters Inn Lighting Ceremony
5 to 7 p.m.
Saturday, Nov. 24:
South Seas Tree Lighting and Children Story Telling
Chadwick's Square South Seas
5 to 6:30 p.m.
Sunset Arias at 'Tween Waters Inn
5 to 6:30 p.m.
Wednesday, Nov. 27:
Walking History Tour
With Richard Finkel of Captiva Cruises at McCarthy's Marina
10 a.m.
Moonlight Cruise
With wine merchant Gordon Hullar's Demystifying Wines at McCarthy's Marina
4:45 p.m.
Thursday, Nov. 29:
Holiday Surprises at the Captiva Memorial Library
Captiva Island Historical Society Captiva Memories volume 1
Sanibel and Captiva Art League Plein, Andy Rosse Lane
10 a.m. to noon
Friday, Nov. 30:
Coconuts!
Techniques for opening a coconut, their ecology, coconut ice cream, coconut painting and using USPS
to mail a coconut
Under the tiki at Jensen's Marina
10 a.m. to 2 p.m.
Mullet March
Starts at Jensen's Marina
4:30 to 5:30 p.m.
Fire Dancing
At the Beach by Mucky Duck
5:45 to 7 p.m.
Joyous Jam
Keylime Bistro, Andy Rosse Lane
6:30 to 10 p.m.
Saturday, Dec. 1:
Join the Junkanoo making Recycled Rhythm Instruments on Andy Rosse Lane near McCarthy's Marina
1 to 3:30 p.m.
Junkanoo
Starts at McCarthy's Marina
4 to 5 p.m.
Joyous Jam
Jensen's Marina
5 to 6 p.m.
Boat Parade
Roosevelt Channel
6 to 7 p.m.
Boat Awards
Keylime Bistro, Andy Rosse Lane
8:30 p.m.
Tuesday Dec. 4:
Writer Amy Bennett Williams speaks about her new book, Along the Caloosahatchee.
Woody Hanson reflects on his grandfather's work as the White Medicine Man to the Seminoles
Wakefield Room at 'Tween Waters
7 p.m.
Wednesday, Dec. 5:
1000 Years of Fishing in Pine Island Sound boat cruise
Starts at McCarthy's Marina with SCCF's Kristie Anders on board Captiva Cruises boat.
10 to 11:30 a.m.
Hurricanes, Skywatching and Storm Readiness
With Doris Holzheimer and Kristie Anders
Time and place TBA
Stars Over Captiva with Richard Finkel of Captiva Cruises
Time and place TBA
Thursday, Dec. 6:
Sound Science
Sanibel Captiva Conservation Foundation's research in Pine Island Sound
Time and place TBA
Sanibel Captiva Art League Plein
Air on the docks of Captiva
10 a.m. to noon
The Best Gifts are Books!
Captiva Memorial Library
Time and Place TBA
Friday, Dec. 7:
Sanibel Luminary
5:30 to 9 p.m.
Sunset Arias
'Tween Waters Inn
5 to 6 p.m.
Hidden Art of Ding Darling
America's Darling - a film on the life of Jay Darling
Wakefield Room at 'Tween Waters after Arias on the Beach
Time TBA
Saturday, Dec. 8:
Golf Cart Parade
Starts at Chadwick's Square South Seas with awards presentation party immediately following
3:30 to 5:30 p.m.
Captiva Luminary
5:30 to 9 p.m.
Sunday, Dec. 9:
Carol Sing at Chapel-by-the-Sea
Reception by Captiva Civic Association
6 to 7 p.m.
For a list of all events and hotel packages, visit http://www.CaptivaHolidayVillage.com.
About Captiva Island
Captiva Island is a barrier island in the tranquil Gulf of Mexico on Florida's southwest coast. North of Sanibel Island and West of Fort Myers, world-renowned Captiva is also just three hours from Tampa and Fort Lauderdale by car. A narrow seashell-laden island famous for its dramatic sunrises and sunsets, celebrity visitors, and creative residents, Captiva is home to private waterfront estates, two large resorts, and several charming small inns. The heart of the island is its vibrant 'downtown,' coined "the village," in which visitors and locals stroll among colorful galleries, shops and restaurants, with live music and water views. As the gateway to the out-islands within Pine Island Sound, Captiva is also a watersports destination and offers boaters multiple marinas with overnight dockage. It has been featured in countless magazines and newspapers around the world.