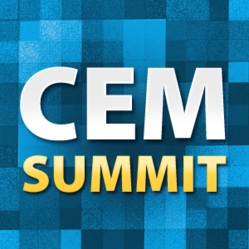 The Customer Experience Marketing Summit offers practical, real-world strategies that deliver proven results.
Atlanta, Georgia (PRWEB) August 02, 2012
PossibleNOW, the leading provider of customer experience and preference management solutions, today announced the full agenda for its inaugural Customer Experience Marketing (CEM) Summit scheduled to take place September 19-20 in Atlanta. The CEM Summit will focus on customer personalization and preference management and will involve speakers from global brands including Coca Cola, Intuit, Symantec and more.
"One look at the agenda and it is clear that this conference isn't about buzzwords and theory," said Scott Frey, CEO of PossibleNOW. "Each session is focused on practical, real-world implementation of marketing technologies and strategies that deliver proven results."
The conference will open with a presentation from author and Marketing Hall of Famer Ernan Roman on customer engagement strategies that drive revenue and shareholder value. Later, Rachel Thomas, Vice President of Government Affairs for the Direct Marketing Association, will participate in a panel on privacy risk management and Nancy Gibson, Vice President of Shopper Strategies and Solutions at Coca-Cola, will speak on personalized messaging and point of purchase strategies. The event will also include presentations from Phil Grudzinski, CEO of the Professional Association of Customer Engagement (PACE), Timothy O'Brien, Group Manager of Digital Communications at Intuit, Scott Margolis, Director, CIO Advisory for Financial Services at PricewaterhouseCoopers, RedPoint CEO Dale Renner and others.
Attendees will gain insight on mobile and social engagement strategies, Voice of the Customer research methodology, customer experience benchmarking, the value of a preference center and much more. With a focus on the critical roles that preferences, personalization and privacy play in executing high impact global marketing campaigns, the CEM Summit will include expert panels, roundtable discussions and networking events. CEM Summit presenters will use innovative technology to poll live audience feedback. To view the full agenda, register for the summit or learn more about featured speakers, go to http://www.cemsummit2012.com.
About PossibleNOW
PossibleNOW, headquartered near Atlanta, Georgia, is the trusted source for consumer preference management and compliance solutions. PossibleNOW leverages its expertise in information technology, database management, and consumer privacy and regulatory compliance to provide cloud-based applications and solutions. PossibleNOW's MyPreferences™ is an enterprise preference management solution that effectively collects and manages the contact preferences of customers and prospects including servicing, privacy, marketing (opt-in and opt-out) across all marketing channels and makes the preference data actionable. The DNCSolution® suite of cloud-based services provides comprehensive tools that help direct marketers comply with federal and state Do Not Contact legislation (Do Not Call, Do Not Fax, Do Not E-mail, Do Not Mail). For more information, call (800) 585-4888 or (770) 255-1020, e-mail info(at)possiblenow(dot)com or visit http://www.possiblenow.com.
###