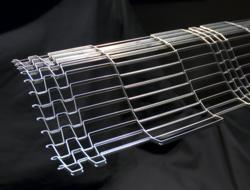 Various improvements made in the engineering and design...reduces maintenance headaches
Cambridge, MD (PRWEB) August 01, 2012
A new white paper, entitled "Solutions for Flex-Style Belting", from Cambridge Engineered Solutions illustrates the evolution of flex-style belting from its earliest engineering to the most recent developments in manufacturing.
Flex-style belting developed out of the need for sanitary, metal conveyor belts that had significant open area and less contact area with the product. Additionally, many applications also necessitated the ability to flex around a shaft or nosebar, while handling tight transfers without losing product
Citing evidence and the resulting issues based on testing and field observation, the context of the paper discusses the problems associated with traditional flex-style belts, which hinge at the joints using a typical z-bend. It goes on to outline the various improvements made in the engineering and design over time, to increase belt life and efficiency, which in turn reduces maintenance headaches and the need for a costly in-stock inventory.
Excerpt from "Solutions for Flex-Style Belting":
Too much strain on the z-bend at the joint of a flex-style belt may go unnoticed until a breakage occurs. A break in any given point on the metal conveyor belt will result in a gap, and may occur repeatedly along the length of a belt.
When a breakage occurs, a new section of belt must be spliced to the original…Because wires are manipulated during splicing, there is an opportunity for wear and fatigue at those points, which can lead to failure.
To read the online version of this white paper, which includes an instructional video, go to http://cambridge-es.com/docs/whitepaper/CESWP_FlexStyle_wVideo.pdf.
# # #
Cambridge Engineered Solutions is the global leader in the manufacture of metal conveyor belts and woven wire cloth. For a century, Cambridge has been at the forefront of the automation of processes worldwide. Go in to almost any plant in the world and Cambridge has left its mark. The CES team provides line evaluations, installation assistance, troubleshooting, rush manufacturing and delivery to guarantee less downtime and increased profits. To learn more about Cambridge Engineered Solutions, visit http://www.cambridge-es.com.