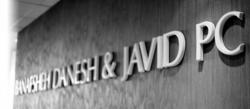 Beverly Hills, CA (PRWEB) August 02, 2012
The Los Angeles Motorcycle Accident Law Firm of Banafsheh, Danesh & Javid, P.C. (BD&J Law) is proud to announce the launch of their new website at http://www.lamotorcyclelawyers.com. The website features news and information regarding Los Angeles Motorcycle Accidents as well as a blog where relevant legal topics will be addressed.
The firm hopes to make the website a valuable source of information and resources for those individuals who, through no fault of their own, have been seriously injured in a Motorcycle Accident in Los Angeles and throughout Southern California.
According to the Governor's Highway Safety Association (GHSA), more then 4,000 individuals are killed annually in motorcycle accidents, countless more are seriously injured.
Motorcycle accidents are notoriously dangerous, and for obvious reason. The motorcycle offers little to no protection for its driver when in a high speed collision. When the accidents occur on highways and are between Motorcycles and autos or trucks, chances are the driver of the motorcycle is going to suffer serious bodily harm.
The Law Firm of Banafsheh, Danesh & Javid, P.C. represent motorcycle drivers in all manner of motorcycle injury cases. With two Los Angeles offices as well as offices in San Diego, San Francisco, Riverside County, and Orange County, they are equipped to serve motorcycle accident victims throughout the state of California.
The website's Motorcycle Accident Injury Blog is an important new aspect of the website that the firm hopes will become a valuable resource for Motorcycle enthusiasts. The blog contains daily informational posts covering topics like motorcycle safety, motorcycle accident news and statistics, local current events, product recalls and more.
About Banafsheh, Danesh & Javid, P.C.
Banafsheh, Danesh & Javid, P.C., is a well-respected California personal injury law firm based in Beverly Hills, California, that represents accident and injury victims throughout Los Angeles County and surrounding areas. The firm's http://www.bdjinjurylawyers.com handle cases involving car accidents, motorcycle accidents, truck accidents, pedestrian injuries, brain injuries, wrongful death and other personal injury claims. The firm also features a staff that speaks Spanish, Italian, Farsi and Hebrew in addition to English.
To learn more about the firm, including additional client testimonials and summaries of the firm's verdicts and settlements, call (800) 820-1111 or use its convenient online contact form.
###