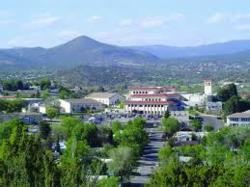 Everybody benefits from stronger communication skills. Better communication means better leadership.
Silver City, NM (PRWEB) August 03, 2012
Leaders and young professionals will gather to learn better communication skills in late August at an open-enrollment seminar hosted at Western New Mexico University. The seminar, led by Mike Jousan, founder of Clear Communication Company, will focus on public speaking, handling difficult questions, and using body language to better communicate with an audience.
A similar seminar took place in June. Some of the notable participants included directors of the Small Business Development Department of Western New Mexico University, a former law professor who owns the seminar company Effective Environments, a renowned figurative artist, and three entrepreneurs from Palomas, Mexico who own The Pink Store.
"The experience was excellent," says Jousan, "We had a diverse collection of individuals and groups all striving towards a goal of communicating better with their audience through public speaking."
Jousan is an internationally recognized speaker and an expert in communication. In the past Jousan has presented for companies including Pfizer, Procter & Gamble, and Chrysler.
"I know the upcoming event in August will be just as enlightening," Jousan says.
Entrepreneurs, small business owners, and community activists are some of the persons Jousan encourages to attend.
"Everybody benefits from stronger communication skills," he says, "Better communication means better leadership."
The event will take place at the Western New Mexico University Global Resource Center on Thursday, August 23, from 9 a.m. to 5 p.m. For more information call 575-538-6320 or email sbdc(at)wnmu(dot)edu.
To contact Mike with questions or to schedule an open-enrollment seminar, email mike(at)clearcommunication(dot)com or visit his website at http://www.clearcommunication.com.