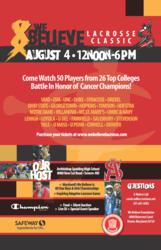 Elkridge, MD (PRWEB) August 01, 2012
The EPIC Brands is a proud sponsor of the We Believe Foundation, an organization founded by Sarah Miller in an effort to not only raise awareness, but also to assist young adults battling cancer. We Believe has helped cancer patients and families with medical bills and income loss, in addition to creating the Just Check and the Strength to Conquer programs to make young adults more aware and to promote healthy living.
The We Believe Lacrosse Classic will be hosted at Archbishop Spalding High School in Severn, Maryland on Saturday, August 4th from 12 pm to 6 pm. 50 top lacrosse athletes from 26 top colleges and universities including University of Maryland, University of Virginia, Duke, Syracuse, Georgetown, and many more will play in honor of raising awareness and recognizing young adults who suffer(ed) from cancer. To purchase tickets for this special event and for more information about this great organization, please visit http://www.webelievelacrosse.com.
Want to help? Contact Sarah Miller at sarah.miller(at)verizon(dot)net or call 301.641.4283
EPIC Brands was established in 2011 from the merger between ACDA (founded in 1991) and Spirit Unlimited (founded in 1999) and remains committed to producing events and camps that are among the best in the industry, while continuing to value and maintain superior customer service. During the 2012-2013 competitive season, the members of EPIC Brands will organize and produce over sixty events throughout the country.
EPIC is pleased to be a founding member of the Spirit Industries Trade Association (SITA), the Nations Leading Cheer Companies (NLCC), and the US Finals. EPIC Brands is also a member of IEP along with USASF and gives multiple Worlds bids each season.
For more information on EPIC Brands and upcoming events, please visit http://www.theepicbrands.com or call 1-877-322-2310.