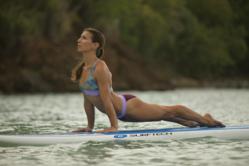 St. Thomas, VI (PRWEB) August 02, 2012
Nayad presents the first line of transitional, multi-purpose, athletic bathing suits for women that are ideal for any activity in and out of the water. By merging athletic and dancewear construction with fashionable designs and quick-drying spandex, Nayad has created a new category of amphibious apparel known as aqua sportswear that is constructed specifically for a woman's moving body.
Nayad suits are made for women, by women with the intention of creating the most comfortable suit that allows for any range of indoor or outdoor activity without compromising aesthetic design personality. They are ideal for any physical activity including running, walking, swimming, surfing, sailing, beach volleyball, yoga, pilates, stand-up paddle boarding, zumba, triathalons, tennis, cycling, wind surfing, kite boarding, weight lifting, kayaking, chasing little kids around the water's edge and more. Nayad suits provide soft but firm support without the use of wires, clasps, knots, bulky padding, buckles or hardware of any kind. They will not chafe, hike up or fall off no matter what activity a woman is engaged in, thereby enhancing both physical and psychological mobility. Women can choose a specific design from the existing Nayad collection that caters to a variety of fashion personalities or customization options are also available. An extensive variety of styles, colors and sizes can accommodate a wide range of body types, lifestyles and fashion preferences.
The company was founded in August 2011 by St. Thomas resident, Jennie Green, who could not find a quick drying garment that was suitable for long distance swimming, running, walking, biking and paddle boarding, yet also attractive. In March 2012, Jennie met Kate Fox on a stand-up paddle board outing. Jennie & Kate have since partnered to bring the Nayad concept and design to all women who prioritize comfort and mobility but don't want to sacrifice fashion.
Nayad is a registered business in the US Virgin Islands. Production of all of its products takes place on St. Thomas. Nayad suits are currently available at Magen's Bay Boutique on St. Thomas and at Pampa on St. John. Suits may be ordered online at http://www.nayadswimgym.com or by phone: (340) 690-6348.