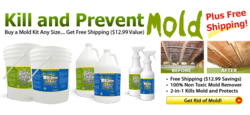 Unlike other mold removers, Molderizer uses its emulsion technology to break the spores from its core.
Boston, MA (PRWEB) August 03, 2012
The wrong mold remediation product can significantly increase a person's mold removal cost. Sadly though, there are only a few solutions that can be considered the right pick for a mold removal process. Worse, most of those few solutions cost too much. However, with its mold removal spray, Molderizer asserts that any homeowner and cleaning contractor can get the right product without spending too much.
Get a Sample of the Best Mold Remediation Product Today
According to Molderizer, its mold remediation product makes the right solution for a mold removal process because it is gentle and mean at the same time. It is gentle because it is non-toxic. Hence, it is not a danger to anybody's health and the environment. On the other hand, it is mean as it is effective. And with that effectiveness, its users are benefited in health and financial terms.
It also called as Molderizer, the solution is made gentle by the company's use of natural ingredients to its formulation. And as those ingredients make the product safe, users can apply it anywhere even on fabric-made apparels.
On the side of health, the use of the products prevents exposure to harsh chemicals. That in return prevents headaches, dizziness, breathing difficulties and even poisoning.
But as it was mentioned, apart from that health advantages, the solution also offers financial benefits. And particularly, it is because of its effectiveness.
Unlike other mold removers, Molderizer uses its emulsion technology to break the spores from its core. It works from mold's DNA out to ensure that the spores are completely eliminated. And with that, repeat of the mold removal process is prevented. And needless to say that saves any mold sufferer from spending more effort, time and money for another process.
Discover All The Benefits Molderizer Can Deliver
But while that effectiveness ultimately brings homeowners savings, it offers contractors big profit. Given that the product is effective, it follows that it makes the process easier and faster to complete. That minimizes the number of employees needed for one mold remediation service. And because that cuts labor cost, profit is increased.
However, the company understands that new products as Molderizer got a lot to prove to the public. So to affirm to the masses that it is indeed the right mold remediation product for everybody to purchase, the company decided to give a complimentary sample of it. Apart from that, to all who will order the product this week, the company offers free shipping.