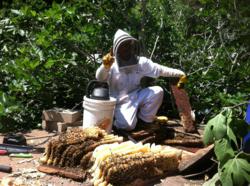 Our goal is to save as much of our honeybees' population in a natural way, by relocating them to farms, orchards and beekeepers.
Los Angeles, CA (PRWEB) August 02, 2012
Bee Green Natural Bee Removal, a company based in Los Angeles, has come up with an ingenious way of removing unwanted beehives, bee swarms, wasps and yellow jacket nests without killing the insects. Nowadays people are being more conscious about the impact they create on their natural environment, to the extent that they are willing to go through lengths to balance personal convenience, comfort and even safety against coexistence with other species.
While most companies exterminate bees to remove them and almost invariably use harmful chemicals and pesticides to kill the bees, leaving a carbon footprint on the environment in so doing, Bee Green Removal is an environmentally safe bee removal company using non-toxic substances to remove them and, once they are removed, give the bees to local bee keepers so that they may continue to produce honey.
Julio Morales, Owner of Bee Green Natural Bee Removal, is also credited for a patent pending safe bee removal vacuum which allows his workers to remove the bees carefully without killing or injuring the bees being removed.
"At Bee Green Natural Bee Removal our goal is to save as much of our honeybees' population in a natural way, by relocating them to farms, orchards and beekeepers where they can continue with their life," said Morales. "Bee Green Natural Bee Removal offers an insecticide-free bee colony/beehive removal, using no dangerous chemicals or dangerous toxins that could hurt you, your family, neighbors or pets."
Most customers appreciate environmentally safe companies, noting that businesses that promote eco-friendly methods are more likely to maintain higher quality standards and show integrity in their transactions. Such a commitment sets Bee Green Removal apart from their competition, not killing the bees and not using dangerous, toxic chemicals and bee-proofing homes, business, or standing structures after removing them, much to the satisfaction of customers.
Wrote one appreciative customer named Nancy Jumper: "Julio and his assistant came to my house on Tuesday to remove bees from the side of my house. Little did I know there were about 5000 bees behind the electric panel door. OMG moment! They removed the bees while my neighbors and I watched. Julio explained all about the process and it was fascinating. I appreciated his professional and friendly manner. Thank you for a job well done. I would recommend your company to anyone needing assistance in bee removal."
Bee Colony Collapse Disorder
A lot of interest has been generated recently by the phenomenon known as Colony Collapse Disorder, which is the unusual demise of beehive population or a low number of adult honey bees present but with a live queen and no dead honey bees in the hive. In some cases, there are only immature bees (brood) present in the hive. It is estimated that the number of managed honey bee colonies has dropped from 5 million in the1940s to only 2.5 million today. Not only that, the remaining honey bee colony's health is endangered by new pathogens and pests.
This can have devastating effects. Bee pollination accounts for $15 billion in added crop value in specialty crops such as almonds and other nuts, berries, fruits, and vegetables. In California, for example, "the almond crop alone uses 1.3 million colonies of bees, approximately one half of all honey bees in the United States, and this need is projected to grow to 1.5 million colonies by 2010," quotes the US Department of Agriculture's Research Service.
While the causes are unknown, Los Angeles bee removal company, Bee Green Natural Bee Removal, aims to have no hand in the deficit. By safely removing hives from where they are unwanted and transporting these to those who need it, without selling these hives to them, Bee Green Removal contributes to the preservation of the colony.
About Bee Green Removal
Bee Green Natural Bee Removal, or Bee Green Removal, is a family owned and operated business committed to the preservation of honey bees and "decreasing our carbon footprint" through eco-friendly methods.
Bee Green Removal specializes in "LIVE" bee swarm, bee hive, underground yellow jacket nest, wasp nest removals. They can also 'bee-proof' homes and businesses without using harmful chemicals. With a 24-hour operation, Bee Green Removal is ready to dispatch within 1-2 hours for emergency response service.
Apart from bee and wasp removals, Bee Green Removal are also capable of repairs for all types of structural damages especially those caused by beehives. Most common requests include chimneys, roofs, stucco walls, dry walls, block walls, siding walls and sheds.
Bee Green Removal is fully permitted and insured to operate in the areas of Los Angeles, Ventura, Riverside, Kern, Orange, and San Bernardino Counties.
For Media Contact:
Julio Morales
info(at)begreenremoval(dot)com
Beegreenremoval.com
###