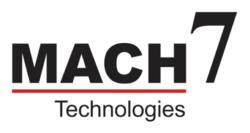 Burlington, VT (PRWEB) August 02, 2012
Mach 7 Technologies (Mach7), a leading provider of enterprise clinical image management solutions, today announced membership in the NetApp Alliance Partner Program. Mach7 is collaborating with NetApp to integrate Mach 7's flagship solution, Keystone Suite, with NetApp's storage solutions.
Under the agreement, Mach7 will be able to test and certify the Keystone Suite software and continue to develop the product for seamless integration with NetApp unified storage. Keystone Suite is a world-class enterprise clinical image management platform designed to allow customers to own, share, and access their medical imaging data across a patient's continuum of care.
The core components of the Keystone Suite include a vendor neutral archive (VNA), a sophisticated routing engine, an innovative prefetch engine, and a zero-footprint viewer. As a VNA partner, Mach7 helps healthcare enterprises worldwide resolve complex integration issues between picture archiving communication system (PACS) vendors, consolidate Digital Imaging and Communications in Medicine (DICOM) and non-DICOM image data, reduce the time it takes to bring new PACS live with an intelligent migration, and save money with the capabilities of Keystone Suite.
"With the increasing adoption of Vendor Neutral Archives from leading solutions providers like Mach 7, health systems are beginning to realize the benefits of non-proprietary architectures," notes Dave Nesvisky, Executive Director, NetApp Healthcare . "Key benefits include reducing the cost and complexity of storing rapidly growing volumes of medical images by decoupling them from traditional costly dedicated siloed storage repositories, enabling greater infrastructure agility."
"Mach 7 Technologies is excited to offer our customers the option to enable clinical image management with NetApp unified storage," said John Memarian, GM Sales & Marketing at Mach7. "By partnership with NetApp, we continue to offer sophisticated technology that is consistent with our commitment to extend innovative imaging solutions to our customers in the USA and abroad."
About NetApp Alliance Partner Program
NetApp Alliance Partner Program provides qualified infrastructure and application providers with access to NetApp solutions, software development kits, technical support, training, certification, product information, and marketing and sales assistance. Customers benefit by having access to best-of-breed partner solutions that are tested to work with NetApp storage. Additional information on the NetApp Alliance Partner Program is available at http://www.netapp.com/alliances.
About Mach 7 Technologies
Mach 7 Technologies is a global provider of innovative, flexible, enterprise clinical image management solutions that enable healthcare enterprises to own, share, and access medical image data.
For additional information, visit http://www.Mach7T.com.