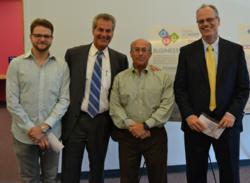 Westchester, NY (PRWEB) August 03, 2012
Approximately 100 guests including family, dignitaries, and local business leaders were in attendance as The Digital Arts Experience Inc. (The DAE) proudly announced the recent opening of its new 8,000 square foot facility at 170 Hamilton Avenue in downtown White Plains.
A non-traditional, state-of-the-art learning center focused on computers, software, and the digital arts, The DAE fosters creativity and collaboration through the use of technology illustrated by the ribbon cutting itself. The DAE President and CEO Rob Kissner did a 'virtual' ribbon ceremony through his iPad using a cutting edge digital app. The brand new technology has only been used once before in the United States.
"Digital media is where the jobs are," said Lance Strate, Professor Communications and Media Studies and Associate Chairman for graduate studies at Fordham University. Speaking about the importance of digital literacy and keeping pace with technology in today's personal and professional business environments he lauded the DAE and its programs for offering dynamic programs and learning opportunities in a wide variety of digital disciplines.
The DAE offers unique teaching methods and a dynamic course of study that enables its students to learn and develop skills with cutting edge digital arts technologies and then apply those skills toward real world projects working with instructors and other students. The courses for adult students are designed to ease the tensions of integrating new and unfamiliar technology into everyday life teaching adults to use digital tools to run their businesses, improve personal efficiency, and take full advantage of technologies.
"We incorporated the word 'experience' into our name because we feel that the best way to learn is through hands-on experience and collaboration," explained Kissner. "Our courses are designed to provide opportunities for social and creative progression within an inclusive, non-competitive setting."
Kissner has a strong background in computer and technology education and has been involved in The Digital Arts for more than 10 years. Working for Apple Inc. as a computer trainer, he is certified by the company to teach a wide variety of topics including Mac basics, professional photo editing, professional audio production software, and 3D motion graphics.
After graduating from Emerson College, Kissner began managing Media Recording, a historic recording founded by Tommy Mottola where he worked with top artists such as Katt Williams and The Jonas Brothers. Prior to his position at Media Recording he assisted legendary audio engineers working with Jay Z and Duran, Duran.
Sara James, Director of Membership, Business Council of Westchester; Executive Director, White Plains Business Improvement District's Kevin Nunn and Natasha Caputo, Director of Tourism and Film were among the business and government leaders who came out for the event. Other notable guests were Jeremy Quinn from the White Plains Performing Arts Center and the Music Conservatory of Westchester's Jon Chattman.
With summer courses in full swing, registration for Fall 2012 is now open with classes offered in the following areas of study:

Audio production
Video production
Animation & visual effects
Graphic design & computer illustration
Photography
Web design
Courses for adults and business include photo restoration, website design, ecommerce, and social media marketing. For a full course catalog, please visit http://www.thedae.com.
The DAE offers open houses and tours by appointment, Monday through Friday, 9:00 AM - 6:00 PM. To schedule a visit, register for classes, or for information, please contact The Digital Arts Experience at 914-644-8100 or http://www.thedae.com. The Digital Arts Experience is located at 170 Hamilton Avenue, White Plains, N.Y., 10601.
About The Digital Arts Experience Inc.
The Digital Arts Experience Inc. (The DAE) is a family-owned and operated digital media arts instruction facility in downtown White Plains. Founded on the principles of collaboration, communication, and community, The DAE provides teen and adult students with the opportunity to learn, explore, create, and produce using digital technology. From digital video and animation, computer illustration, and web design for young adults to personal productivity, digital arts, and small business solutions for adults, The DAE courses and collaborative teaching methods are unmatched in the region.
Press Contact:
Mindy Gibson
Co-Communications, Inc.
914.666.0066
mgibson(at)cocommunications(dot)com