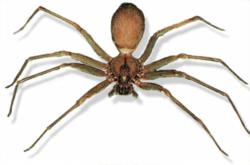 But apart from making it safer to get rid of the spiders, the solution also helps better a person's wellness.
Orlando, FL (PRWEB) August 04, 2012
Most of today's spider sprays are chemical-based. And though it's true that chemicals make insect sprays effective, they also make them a risk to health and the environment. So for a safer spider repellant, MyCleaningProducts urges everyone to purchase one that is non-toxic. However, among others, it says that its own is the best.
Know Why MyCleaningProducts' Spider Spray Is The Best
Cleaning products, spider sprays included, are essential parts of home maintenance. They speed up the cleaning processes without compromising the tasks' effectiveness. In fact, with the use of the cleaners, the processes are often made more effective.
However, one major problem is that most of the home cleaners nowadays contain harsh chemicals. The worse thing is that some companies deliberately miss adding those chemicals to their list of ingredients. And so even to a meticulous cleaning product shopper, they are a danger.
For truly safe cleaning processes, MyCleaningProducts says that organic cleaners are what everybody should purchase. They get the work done without causing any health problems as poisoning, dizziness and difficulty in breathing.
So for all those who are looking for a spider repellant, the company encourages the picking of an organic spider spray over those that are chemical-based. Nonetheless, among the safe solutions for the eight-legged creatures, MCP asserts that every homeowner and cleaning contractor should choose its very own solution called Spider Bully.
The reason that the company has why buyers should pick its Spider Bully over others is that it offers more benefits. As earlier mentioned, the product is non-toxic hence it is safe. But apart from making it safer to get rid of the spiders, the solution also helps better a person's wellness. That's because imbued in the product are oils and fragrances that create a relaxing and rejuvenating home environment.
See How Spider Bully Is Made Safe
But as a green cleaning company, Spider Bully is not the only pest-control solution that MyCleaningProducts has to offer. It also got a product for bed bugs, ants, silverfish and roaches among others. All of which are non-toxic.
Additionally, the MCP also got products for rust removal, mold remediation and other home cleaning tasks. And just like the pest-control solutions, they also offer safety from chemical effects apart from effectiveness.
Order MyCleaningProducts' Cleaners Today and Get a Discount and Free Shipping. Just Enter Code 'pr10' at Checkout to Take Advantage of the Special Deals.