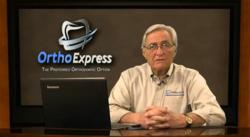 This video series is breaking ground when it comes to online training in its quality, interactively and content
Riverside, CA (PRWEB) August 02, 2012
As with any business, time is money and in the world of orthodontics, the task of fixing one's teeth with braces traditionally requires a great deal of both.
Dr. Davidian stated that his innovative process OrthoExpress™ has been a long time coming. He said, "OrthoExpress™ is the result of real world applications, it took me 40 years to be able to develop this process". The concepts involved came about as a function of Dr. Davidian's personal practice in orthodontics, his thesis on the effects of applying different forces to teeth and the development of two specialized computerized software programs.
He stated, "OrthoExpress™ developed ways to apply pressure to teeth that minimize damage to the roots", In other words, Dr. Davidian has learned how to efficiently move teeth according to their inherent properties. By working with the attributes of the teeth rather than against them, OrthoExpress™ offers a much quicker option than traditional orthodontic techniques. Dr. Davidian reports: "The average orthodontist today takes about 30 months for average treatments. In OrthoExpress™ he is able to reduce that treatment time to 16 or 17 months".In actuality, about half of his patients finish in 15 months or less.
Dr. Davidian is now sharing his methods with his peers around the world, with an advanced online video training series entitled OrthoExpressTraining.com. His OrthoExpress Training series uses four live case studies, a lesson in theory and application and his two software programs (OrthoExpress Modeling and the BeaCAN Advanced Case Study).
He uses these programs in his lessons to demonstrate the principles underlying OrthoExpress™ procedures. During the 15-part course, Dr. Davidian will treat 4 patients monthly online so other orthodontists will have a firsthand opportunity to closely follow the procedure. In order to remain accessible and keep the content of his online lectures relevant, Dr. Davidian has provided orthodontists with the ability to email him monthly with questions regarding the OrthoExpress process. He will then respond with answers to their inquiries in subsequent lessons.
Dwight Cromie - President of the Altek Media Group and the producer of the OrthoExpress video training series stated "this video series is breaking ground when it comes to online training in its quality, interactively and content". Orthodontists will be able to view the training modules in full screen HD quality right on their computers or mobile devices.
Clearly doctors who learn OrthoExpress™ will be able to treat patients faster and, in some cases, more affordably, a rare combination to find in today's economy.
For more information
Contact Dr. Jan Davidian
Info(at)orthoexpresstraining(dot)com