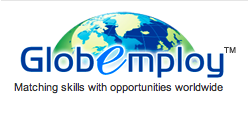 Globemploy™ has the network and resources to match potential candidates with career openings in any field, anywhere on Earth.
(PRWEB) August 06, 2012
For most students, the concept of finishing school and entering into the workforce is a daunting reality. Poor economic conditions in recent years have left the labor market flooded with qualified talent while short on desirable entry-level positions.
Traditional job posting sites are now teeming with record numbers of resumes as more and more candidates vie for fewer and fewer positions. The unfortunate reality facing many new graduates is that it is becoming much and more difficult to separate themselves from the pack and truly stand out amidst a sea of potential candidates.
That's where Globemploy™' s revolutionary new employment solutions platform comes into play. Through their unique filtering process, Globemploy™ breaks down a potential employee's exact skill set and employment preferences, matching them with only the most pertinent career openings from preferred locations around the world.
By completing a registration profile that highlights qualification factors such as experience, skill set, and education, students can now skip the fumbling process of traditional employment solutions and get right down to finding the career that suits them best. Globemploy™ has the network and resources to match potential candidates with career openings in any field, anywhere on Earth.
Further refining based upon such things as spoken languages, expected salary, and physical location, mean that an entire world of opportunity is just a few simple steps away. Gone are the days of mindlessly clicking through want ad after want ad, hoping to stumble upon the perfect opportunity.
Based upon the unique profile of each candidate, Globemploy™ will match would-be employees with only the most pertinent job openings from around the world. From Belarus to Birmingham, students and recent graduates can rest assured that Globemploy™ will leave no stone unturned in the search for appropriate and meaningful employment.
For students, Globemploy™ even offers specialized tools for part-time, summer time, apprenticeship, and even volunteer employment. Whether you're looking to build a strong resume, or capitalize on a resume that is already strong, Globemploy™ has everything a student needs to gain a competitive advantage in the global labor market.
Reading through one job opening after the next is a frustrating, inefficient and outdated method of finding out what is available in the job market. In today's fast-paced society, the candidate with the best strategic approach will almost always come out on top. Globemploy™ simply provides that approach.
The world is not an easy place to make your mark, but with Globemploy™'s revolutionary new approach to employment solutions, finding the right place to start is easier than ever before.