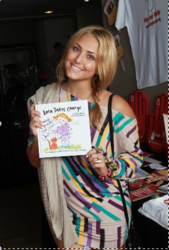 West Hollywood, CA (PRWEB) August 03, 2012
Organized through Social Hill's celebrity lounge, celebrities donated their time to this charity by coming in to Social Hill and signing t-shirts and books, which the company will use to raise money and awareness for the cause.
Cassie Scerbo recently visited the Social Hill lounge. "It's such a great cause, I'm so happy to do what I can to help out," she said. Scerbo is best known for her roles in "Bring It On: In It to Win It" as Brooke and "Make It or Break It" as Lauren Tanner.
Other notable celebrities who dropped in to help promote the mission of the ADA include: two-time Emmy nominated actress, Dot Marie Jones, currently staring as Coach Beist on the hit television series "Glee," Alexa Vega known for her starring role as Carmen Cortez in the "Spy Kids" film series, and Nathalia Ramos who starred in the feature teen comedy "Bratz."
According to data from a 2011 study done by the American Diabetes Association, 25.8 million children and adults in the United States have diabetes; this represents 8.3% of the population. The American Diabetes Association's mission is to prevent and cure diabetes and to improve the lives of all people affected by diabetes.
This is done through funding research to prevent, cure and manage diabetes, delivering services to hundreds of communities, they provide objective and credible information, and give a voice to those denied their rights because of diabetes.
Notable celebrities who are known to have diabetes include pop sensation Nick Jonas, award-winning actress Halle Berry, singer for the band Poison, Bret Michaels, and comedians Delta Burke, and Drew Carey.
Social Hill works with a different charity every month to raise awareness in the celebrity community. For information on charity sponsorship, visit http://www.socialhill.com, or contact Adrine Amdriassian, COO of Social Hill at adi(at)socialhill(dot)com. For additional information on diabetes please go to http://www.diabetes.org/.