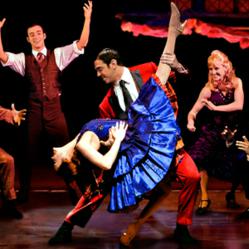 West Side Story remains Broadway's best dance-driven musical.
Worcester, MA (PRWEB) August 10, 2012
The most beloved musical of all time is coming to The Hanover Theatre for the Performing Arts in Worcester, MA, New England's second largest city, from December 28 – December 30. WEST SIDE STORY tells the story of star-crossed lovers, Tony and Maria, as they struggle to rise above the hatred and intolerance that surrounds them. WEST SIDE STORY soars as the greatest love story of all time and remains as powerful, poignant and timely as ever.
WEST SIDE STORY is written by three theatrical luminaries: two-time Tony Award winner, Arthur Laurents (book,) and multiple Tony and Grammy Award winners, Leonard Bernstein (music) and Stephen Sondheim (lyrics).
The Associated Press says WEST SIDE STORY "remains Broadway's best dance-driven musical. Five decades have not dimmed the extraordinary choreography or the score that pulsates throughout." Variety says, "The true stars of WEST SIDE STORY are Jerome Robbins' graceful, endlessly expressive choreography and Leonard Bernstein's score, which still sounds bracingly modern a half-century after it was first heard. The music is a primal force."
The Bernstein and Sondheim score is considered to be one of Broadway's finest and features such classics of the American musical theatre as "Something's Coming," "Tonight," "America," "I Feel Pretty" and "Somewhere."
Ticket prices are $39, $49, $59 and $69 with a 10% discount available for members of The Hanover Theatre, groups of 15 or more and WOO Card holders. A 15% discount is available for groups of 50 or more. Tickets are available online at TheHanoverTheatre.org, by phone at 877.571.SHOW (7469) or at The Hanover Theatre Box Office located at 2 Southbridge Street in downtown Worcester.
Tickets for WEST SIDE STORY are available as part of a six show Broadway Series Subscription Package. Subscribers may also take advantage of a payment plan that allows them to enjoy subscription benefits for as little as three installments of $65 (if subscribers opt out of one of the shows) or $73 for the six shows that are part of the 2012-2013 Broadway Series Subscription Package.
About The Hanover Theatre
The Hanover Theatre for the Performing Arts, located in downtown Worcester, New England's second largest city, is recognized by Pollstar as one of the Top 50 Theatres in the World. After undergoing many name changes and renovations over the decades since its 1926 birth, The Hanover Theatre reopened in March 2008 following a $32 million historic restoration. Since then, the theatre has established its place as a rich entertainment and cultural venue, winning numerous awards, including The National Trust for Historic Preservation Award in 2010. Now in its fifth season, The Hanover Theatre continues to expose over 170,000 annual patrons to world-class entertainment in the form of Broadway, concerts, comedians and much more. For more information, visit TheHanoverTheatre.org. Worcester Center for the Performing Arts, a registered not-for-profit 501(c)(3) organization, owns and operates The Hanover Theatre for the Performing Arts. All donations are tax deductible to the fullest extent allowed by law.