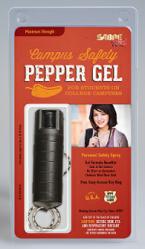 Sabre Red [Campus Safety Pepper Gel] specifically addresses the distinct environment that students live in daily.
Fenton, MO (PRWEB) August 08, 2012
Going off to college can be scary for a variety of reasons: making new friends, passing classes, cafeteria food. Too many college students leave little time for prioritizing personal safety despite their age group's high risk to robbery, sexual assault, and aggravated assault. This is why Sabre Red is introducing a personal safety product designed with college students in mind.
With the Campus Safety Pepper Gel, Sabre Red specifically addresses the distinct environment that students live in daily. For example, students spend a lot of time in crowded buildings and densely populated areas. They also constantly walk outside from class to class year round. Furthermore, they may not take ownership of their personal safety because most colleges implement standard security measures across campus.
With these issues in mind, Sabre Red alleviates many major concerns for students, parents, and campus officials. First and foremost, a student in danger needs a reliable tool that will help prevent hand-to-hand contact, require little skill to use, and provide an opportunity to escape within those critical seconds. The new Campus Safety Pepper Gel allows a student to defend at a safe distance. Plus, Sabre Red is the same brand used by the NYPD and hundreds of other elite agencies worldwide.
Superior to pepper spray, pepper gel also greatly reduces wind blow back. Next, the gel formula eliminates cross-contamination, which means innocent bystanders will not be affected if deployed in the vicinity. Gel can also be used indoors without needing to vacate the area afterwards.
Pepper Gel is also equipped with a quick-release key ring keeping it highly accessible and easily detachable from a back pack or room keys, rather than at the bottom of a bag or left in the dorm room or apartment.
Sabre Red takes student safety one step further with the College Safety Program. Sabre's College Safety Program Manager, Katy Alberti, says, "While owning and carrying pepper gel works great for protection, students will maximize their personal safety when they learn how to discourage attackers and practice using the spray effectively."
Consumers interested in Campus Safety Pepper Gel can visit http://www.sabrered.com or email info(at)sabrered(dot)com.
Since 1975, Sabre brand has been manufactured in the USA by industry leader Security Equipment Corporation (SEC). SEC produces pepper spray, stun guns, and animal deterrent sprays for law enforcement and the general public. For 10+ years, SEC has trained the top law enforcement agencies in the world. In 2008, SEC established the Sabre Personal Safety Academy, which trains civilians how to prevent attacks as well as how to use pepper spray.