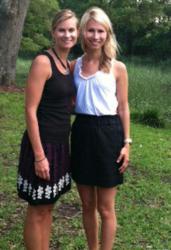 We're excited for the girls, and honestly, a little jealous of their upcoming adventure."
Marshall, MI (PRWEB) August 02, 2012
Select Registry announced today that it has enlisted the help of two road-tripping sisters to preview the Vacation of a Lifetime grand prize in an exclusive "from the road" blog series. The travel sweepstakes, which is part of the association's Golden Quill Loyalty Program, entitles the winner to a free night at each of nearly 350 inns and bed and breakfasts across North America.
After three years as Assistant Innkeeper for The Inn at Warner Hall in Gloucester, Virginia, Amanda Gayle, 24, decided to take a brave leap and enroll in a holistic chef's program in Santa Cruz, California. Waving goodbye to family, friends and a good job in the east, she is embarking on a ten-day road trip with her sister, Ashley, her two year old goldendoodle, Sid, and a little help from her innkeeping friends.
"The whole thing was pretty serendipitous," says Will Carlson, Executive Director of Select Registry. "When we learned the girls were planning this cross-country trek, it seemed like the perfect opportunity for our guests to experience the Vacation of a Lifetime vicariously. We're excited for the girls, and honestly, a little jealous of their upcoming adventure."
Working with Select Registry innkeepers across the country, the girls have mapped out a course that will take them on a whirlwind tour of luxury inns and gourmet breakfasts as they make their way across 12 state lines and clock nearly 4,000 miles en route to the Pacific. Their current itinerary includes visits to the following Select Registry properties: John Rutledge House, Charleston, South Carolina; 1842 Inn, Macon, Georgia; Fairview Inn, Jackson, Mississippi; Inn Above Onion Creek, Kyle, Texas; Shiloh Morning Inn, Ardmore, Oklahoma; Hacienda del Sol, Taos, New Mexico; Villa Royale, Palm Springs, California; Ballard Inn, Ballard, California.
Daily blogs of their adventures can be found online at: http://blog.selectregistry.com.
"This will be my first time driving coast to coast and I could not be more excited to embark on this adventure," says Gayle. "This is a once-in-a-lifetime opportunity. In the past few years I have become very familiar with Select Registry and what they stand for. I can't wait to experience these properties and share the adventure with others."
Inn-goers and Select Registry fans are encouraged to follow the girls' journey online through Facebook (/selectregistry) and Twitter (@SelectRegistry and #stayselect) as well as the Select Registry blog.
Travelers may enter to win the Vacation of a Lifetime sweepstakes until December 31, 2012 by visiting: http://www.selectregistry.com/Vacation-of-a-Lifetime.asp
About Select Registry
Select Registry™ Distinguished Inns of North America represents nearly 350 of the finest country inns, luxury B&Bs, and unique small hotels across North America — the very best the industry has to offer. Established more than 40 years ago, Select Registry sets the standard for excellence with the longest continuously running inspection program in the B&B industry.
Inns applying for membership receive rigorous periodic inspections as do existing member inns. Independent inspectors with years of hospitality experience arrive anonymously, spend the night and evaluate the inn. No other online directory or organization of innkeepers has a comparable inspection program, establishing Select Registry as the benchmark for quality. Each member property is unique and showcased in the Select Registry Guidebook. With more than 400,000 copies available as gifts to guests, the guidebook is the largest publication of its kind in the travel industry. For more information, visit http://www.selectregistry.com.