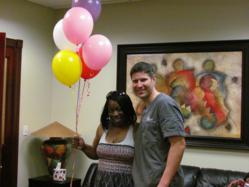 I can't say thank you enough to MyShape Lipo
Las Vegas, NV (PRWEB) August 06, 2012
Making Dreams come true is what the team at MyShape Lipo thrive on to keep them motivated. Kimberly Williams is the 4th winner of this random drawing contest hosted by MyShape Lipo. Each winner was provided a liposuction procedure for their fat removal. For most consumers, the most important question is "how much does liposuction cost?" This contest has given hope to those that previously could not find affordable liposuction. "The response has been amazing," say Trevor Schmidt PA-C, the liposuction specialist at MyShape Lipo. "The excitement of winning liposuction has given many people hope."
The contest has gotten so popular, that there are nearly 30,000 entries currently. This is an ongoing contest with MyShape Lipo. Once a person has entered, they remain entered for future contests. For additional opportunities to win, contestants may follow MyShape on their other social media pages and in return they get an additional entry to the contest. This makes it a bit more exciting to have an additional chance to win, but it also bolsters the already large community that follows MyShape Lipo in the social media world.
Kimberly is a 23 year old resident of Hockley, Texas a small town of just over 11,000 people located near Houston. A single mother, struggling with self image issues; Kimberly sees this opportunity as a chance to improve her self esteem and live a healthier life for herself and her young son. Misfortune and life situations have caused weight gain and depression that made her feel helpless. "I can't say thank you enough to MyShape Lipo and their team for picking me as the winner." Obesity has limited her in so many ways and caused her to lose hope. She is most excited to fit better in her clothes and increase her energy as she will not be carrying such a large belly anymore.
Kimberly is scheduled to have her procedure August 8th as she is wasting no time to redeem her prize and unleash her new shape. She has chosen to have her upper abdomen, lower abdomen and pannus treated. This should significantly reduce the front of her belly, make it easier to bend forward, reduce her waist and make it easier to fit into clothes. In addition, large volume liposuction has been shown to decrease cholesterol, effectively reducing the risk of heart disease, diabetes and stroke.
MyShape Lipo is a specialty clinic located in Las Vegas, NV. They focus on liposuction, fat transfers to the butt and breasts, and laser cellulite removal treatments. To enter the contest go to their website http://www.MyShapeLipo.com. For a complementary consultation which can be done via phone or in person, call 702-818-5476.