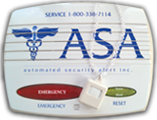 Pittsburgh, PA (PRWEB) August 03, 2012
The Pittsburgh-based company Automated Security Alert is offering a 100% waterproof medical alarm that is ideal for physically active seniors who enjoy outdoor activities. The ASAPro alarm can send a signal to the base to get help. The alarm, which is offered in the choice of a pendant, a wristband, or a clip, can even send a signal from underwater. This is an excellent alarm for senior citizens who are physically active or who enjoy being outdoors in their gardens, swimming pools, hot tubs, or their yards. For seniors who are able, maintaining physical activity is an invaluable asset to their overall health.
Automated Security Alert medical alarm technicians install the system, and then test the alarm from different areas on the property, walking the clients around the grounds to let them know how far they can go and still be in range of the alarm's base. The company reports that clients who use their systems can stay in their own homes and out of nursing facilities for an additional six years. Additionally, the 100% waterproof alarm is also ideal for any senior who can take care of their own bath and shower needs, since the majority of falls take place in the bathroom.
Automated Security Alert, Inc., has provided freedom and security since 1988 to over 60,000 consumers through the use of technology and services that enable seniors, physically-challenged persons and recovering patients to maintain an independent lifestyle in their homes. ASA's creative, dependable solutions include medical alert systems(personal emergency response systems); fall detection systems; telehealth and medication management systems, including electronic pill dispensers and monitored medication dispensers.
For further information, please contact Matthew Couillard at 1.800.338.7114.