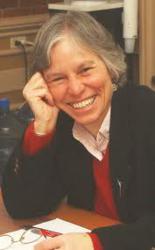 I dream about what will happen as more and more women artists gain the resources they need to express their creativity fully. I am convinced that they will change the world
Salinas, CA (PRWEB) August 04, 2012
Martha Richards, Founder and Executive Director of WomenArts, will speak about her work at the Honoring Women's Rights Conference on September 8 at the National Steinbeck Center. Richards created the non-profit WomenArts while living in Northampton, MA. She was inspired to do so after two decades of watching women artists get paid less than their male counterparts for the same work in the arts organizations where she worked.
As a seasoned arts manager with a law degree, she had the organizational background to create a non-profit dedicated to increasing the opportunities and visibility of women artists. WomenArts provides a wealth of information about festival and funding opportunities for women artists through its website and e-newsletters, and it coordinates an annual international holiday called Support Women Artists Now Day or SWAN Day for short.
About five years ago, Richards moved WomenArts from Massachusetts to the San Francisco Bay Area where she has been cultivating partnerships with exceptionally talented local artists. For instance, she is currently working with the Oakland-based composer, Mary Watkins, to get a production of her full-length opera, "Dark River: The Fannie Lou Hamer Story." The opera is based on the true-life story of the 1960s civil rights heroine Fannie Lou Hamer, the daughter of share-croppers who became one of the leaders of the effort to integrate the all-white Mississippi delegation to the Democratic National Convention. "It will be a triumph if we can get a full production of this opera by a major company," said Richards. "It is so rare to see an opera written by any women composer, much less an opera by an African-American woman telling the story of an African-American heroine of the civil rights movement." This opera is one of several artistic projects addressing social issues that are being developed as part of the WomenArts Harmony Project.
One of Richards' other projects is the annual, global celebration of Support Women Artists Now (SWAN) Day in March. This is a holiday Richards created with Chicago-based film critic Jan Lisa Huttner in 2008 to highlight women artists during Women's History Month in March. SWAN Day is officially on the last Saturday of March, but it is celebrated throughout the month. In its first five years, there have been approximately 900 events in 25 countries. About a dozen cities around the world now do large SWAN festivals every year and there is a wide range of grassroots SWAN events in every art form. Carbondale, CO held a month-long SWAN celebration in 2011, and Connecticut hosts an annual SWAN festival of women in rock music, while Miami has an annual SWAN spoken word festival. In Nairobi, Sophie Dowllar has organized five SWAN festivals. She writes: "Support Women Artists Now Day is very important to artists in East Africa where female artists are rarely recognized. SWAN day has inspired so many women artists in Kenya, where a strong movement of women artists is on the rise."
Richards is inspired to keep WomenArts moving onward and upward by the quality and tenacity of the women artists that the organization serves. "I feel blessed to have a job where I get to work with so many talented women," she says. "I see them struggling so hard to share their deep and beautiful visions with the world, and I am determined to help them. I am confident that these women have the power to change the world."