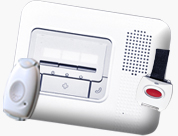 Pittsburgh, PA (PRWEB) August 06, 2012
Automated Security Alert is offering a remarkable two-in-one medical alarm called the FallGuard Pro. The 100% waterproof device functions as a push button medical alarm, but it also has a built in fall detector that will automatically send for help if the unit is tipped at a sixty degree angle for about a minute. If a client suffers a fall and is rendered unconscious, the FallGuard Pro can send an emergency signal that will allow Automated Security Alert's Life Safety monitors to summon immediate help. The device can also be lifesaving in the event that a patient would suffer a fall due to a heart attack or seizure and be unable to press the button on the alarm.
The one minute delay in calling for help allows the client to carry on with their usual household routine such as taking clothes out of the dryer or food out of the oven without calling for help when no help is needed. The FallGuard Pro also has a button that can call for help if person needs help for a non-fall related emergency. The Pittsburgh-based Automated Security Alert has reported that using a medical alarm allows people to live independently in their homes for an average of about six years longer than those who do not use a medical alarm.
Automated Security Alert, Inc., has provided freedom and security since 1988 to over 60,000 consumers through the use of technology and services that enable seniors, physically-challenged persons and recovering patients to maintain an independent lifestyle in their homes. ASA's creative, dependable solutions include medical alert systems(personal emergency response systems); fall detection systems; telehealth and medication management systems, including electronic pill dispensers and monitored medication dispensers.
For further information, please contact Matthew Couillard at 1.800.338.7114.