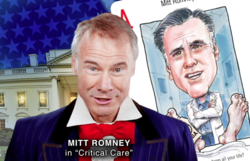 I mean, how many can do a Rick Perry impression and then, seconds later, someone like Barney Frank?
Los Angeles, CA (PRWEB) August 02, 2012
Fresh off his uber viral Shakespeare Impressions video, Jim Meskimen, the smart man's celebrity impressionist, laid down the Law of the Land by teaming up with Politicard's creator Peter Green and impersonating 18 of America's most influential politicians and pundits, one right after the other, in a two-minute monologue melee that exemplifies all that is wacky and wonderful about this year's presidential election.
The whole project started a few months ago when Green, whose recent 2012 Politicards still remain the go-to political collectible 40 years after the first deck hit stores during the election of 1972, decided to contact his comedic friend and "partner up" in a video that would, in his words, "even-handedly skewer" a few of today's leading politicos. Utilizing YouTube as a stage, along with Meskimen's prodigious vocal talents and Green's Illustrations, the production would be a surprising calliope of spot-on impersonation magic and vivid visual humor.
Politicards, for those not familiar with this Election Year staple, is a poker-sized deck of 54 playing cards (including the two jokers) with a comic illustration of one of the top politicians and political supporters on every card. It's ranked from most to least powerful so you'll expect to find Barack Obama and Mitt Romney as our country's Aces with Joe Biden as the King of Clubs, Sarah Palin as the Queen of Diamonds and, down the line, Newt Gingrich as a Seven of Diamonds and Barney Frank as a Four of Clubs.
"Conveniently, the whole deal was ripe for parody," says Green, "…this year's Politicards deck, once again, has the top politicians and political supporters but this time I've illustrated them as characters from the movies. We've spent a lot of time researching to match the politician with just the right film and quote from the movie that 'gently roasts … but never burns.'" A wisecracking turn-of-phrase Green enjoys using often.
Currently these decks are selling out all over the United States, which make it a great opportunity to have a little more fun. When Meskimen was called, he jumped at the chance to flex his mouth-muscles once again, this time, instead of the Hollywood crowd, he'd be impersonating the men and women who run the country.
"It's a tough gig," Green admits, "Jim was on a flight back from Canada (having attended a stage performance of his famous mother, Happy Days' Marion Ross) and had to work out a few of his impressions mid-air. Some were already under his belt … Bill Clinton, Obama, Romney and even Arianna Huffington … but he needed to finesse a couple of these guys we rarely hear: I mean, how many can do a Rick Perry impression and then, seconds later, someone like Barney Frank?"
But that's just what Meskimen did; from the start, he plows into his signature top-shelf impersonations beginning with the gravely voice of Ron Paul then onto a flawless Mitt Romney (close your eyes and listen if you don't believe me!) knocking off Rick Santorum, a blustery Rush Limbaugh, Arianna Huffington's Grecian inflection, Joe Biden as Jerry Lewis (!) and even the nasal-toned Ben Bernanke. All the while Green's Illustrations pop in and out of the backdrop.
Both Green and Meskimen are thrilled by the result. "The Election Season is right around the corner and small productions like this can have a big impact on the overall emotional climate," Green smiles, "sometimes these are the things people remember most about an election. Sometimes, it's all they remember."
Watch the video here:
http://www.youtube.com/watch?v=s_7VT8M6tAw
For more information about Politicards 2012 visit:
http://www.politicards.com
For learn more about Jim Meskimen and his impressions visit:
http://www.jimpressions.net