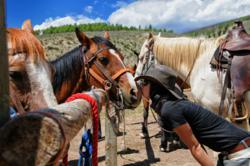 Silverthorne, CO (PRWEB) August 03, 2012
Gore Range Outfitters runs a trail riding operation in the forests of Summit County and also manages a horse boarding business in Silverthorne, Colorado. Throughout the years, they have made many observations about kids and horses. According to Glenn Morse, owner/operator of Gore Range, "Kids who are around horses simply don't have the typical issues that's kids have today. They don't do drugs, they are not into bullying, and they are quite simply, better kids overall. There are so many chores with horses, kids just don't have time to do anything else." Equestrians already know how beneficial horses are for children. People are surprised to learn just how constructive horse involvement can be. Here's a quick rundown of what "growing up with horses" can mean for children:
Horses Are A Kid's Best Friend
Horses make wonderful childhood companions. Children are naturally attracted to them, and that makes horses a desirable alternative to TV-watching, video games. Internet-surfing, or just "hanging out." Horseback riding also puts children in touch with nature, and can be enjoyed alone or in groups.
When the whole family gets involved, the time spent together with horses can enhance the bond among family members and become the stuff of treasured childhood memories. Moreover, the benefits of horse involvement are enduring, as a child's "horse habit" can evolve into a rewarding lifelong hobby.
"I used to beg and borrow my neighbor's horses so that I could ride in the hills of Southern California with my girlfriends. You couldn't get us to sit in front of a TV when there were horses to ride. That passion has developed into a lifelong pursuit," says Leslie Stafford, resident of Summit County and owner of several horses.
Developing the Child's Character
Handling, riding, and caring for a horse or pony can develop a host of positive traits in a child, including responsibility, accountability, patience, level-headedness, empathy, kindness, and self-discipline.
Riders learn to take responsibility for their own actions, and for the consequences of those actions. This is essential training for school, for college, for a career, for life as an adult and a parent and an all-around useful citizen. As they learn to look after horses well, they also master any number of subjects that they aren't offered in school; the value of exercise and conditioning, and the importance of warm ups, cool-downs, and proper nutrition.
In a recent survey of youngsters competing in 4-H horse shows, subjects ranked learning to do their best and developing self-respect as among the greatest benefits of their involvement. "The most important thing I've learned," wrote one 17-year-old study participant, "is that hard work and believing in yourself can get you anywhere."
"Horses can't be made to feel guilty, or talked into saying 'yes' when they know they should say 'no'," observes Dr. Janet Sasson Edgette, an equestrian sport and child/adolescent/family psychologist, and author of Heads Up: Practical Sports Psychology For Riders, Their Families, and Their Trainers. "They simply respond to what their rider does. Riding enables kids to realize how their choices, attitudes, and behaviors affect the other living creatures around them," she adds.
Scholastic enhancement
The perseverance needed to ride well can translate into improved performance in the classroom. "Riding increases a child's focus and intensity," observes California trainer Carol Dal Porto, who prepares youngsters to compete on the Appaloosa circuit. "You can't let your mind wander when you're riding a 1,200-pound animal." This learned concentration later shows up in kids' schoolwork, "to their parents' delight," adds Dal Porto.
Leadership training
Especially if a child becomes involved with a group like Pony Club, 4-H, or the youth group of a breed association, the opportunities for learning management and leadership skills abound.
"Holding an office, leading a smaller group of children, working on a project, all of these are ways in which youngsters learn and grow," says Mary Fay, the American Youth Horse Council's 2003 Youth Horse Leader of the Year. "4-H requires children to keep records of their time, activities, and money spent. These are all important life skills."
To find out how kids will react to being around horses, give Gore Range Outfitters of Silverthorne, Colorado, a call. They have rides that start at 1.5 hours and extend to all day and overnight trips.
"We are always amazed at the kid's faces when they return from a two hour ride. They look like they just went to Disneyland, only better, " said Cameron Barrie, manager of the operation. "Most of our trail bosses have been riding forever, so they understand the excitement and they try to encourage the kids to ask questions and get to know their horses better, and we also give all our young riders a cowboy hat to remember the experience" said Glenn Morse, owner/operator of Gore Range Outfitters. "We have families come back, year after year because they love being around the horses so much," said Barrie.
Horses are more than just big animals that eat a bunch of food. In fact it was Winston Churchill who said it best, "The outside of a horse is good for the inside of a man."