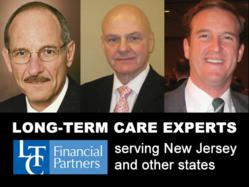 The best bet -- for any individual, family, company, or group -- is to talk with an LTCI specialist about their particular situation.
Morristown, NJ (PRWEB) August 02, 2012
When the Supreme Court upheld The Patient Protection and Affordable Care Act (Obamacare), uncertainty about health insurance abated. But what about long-term care insurance, which covers in-home, nursing-home, and assisted-living care -- expensive services scarcely addressed by regular insurance or Medicare? That issue remains as head-scratching as ever, according to LTC Financial Partners, one of America's most experienced long-term care insurance agencies, with offices in Morristown.
So, what to do? "The best bet -- for any individual, family, company, or group -- is to talk with an LTCI specialist about their particular situation," says Gary Melnikoff, a state-certified agent with the company. Melnikoff recommends asking five key questions:
1. "Based on our health history, what are the chances any of us will ever need long-term care?"
2. "In our financial situation, is Medicaid a viable care option?"
3. "What are the pros and cons of relying on savings, life insurance, or reverse mortgages to pay for care?"
4. "In our case, following the court's decision, how do federal and state laws affect tax breaks or other LTC-related benefits?"
5. "Given all the facts about us, is LTC insurance the best bet, and what does it cost?"
Richard Landau, another leading long-term care insurance agent in NJ, with offices in Hackensack, points out that not only families can benefit from a greater understanding of the issues surrounding possible long-term care needs, but individuals, organizations and employers should educate themselves as well.
Long-term care insurance specialist Michael FitzPatrick regularly works with individuals and groups from his offices in Paramus and is always happy to share information on this far- reaching topic with anyone who calls for information. "We're glad to help them learn if this type of protection is right for them, and if it is, to find the best, most affordable policy for their situation," FitzPatrick says.
For more information on how Obamacare impacts long-term care needs for you, your family, your organization or your employee benefits, the following agents are happy to help anyone in New Jersey:
Gary Melnikoff: (Paramus, NJ) 201-265-1958, http://www.LearnAboutLTC.com
Michael FitzPatrick: (Morristown, NJ) 862-242-8787, michaelfitzpatrick.ltcfp.com
Richard Landau: (Hackensack, NJ) 201-476-0800, http://www.NYCmetroLTC.com
In California the company is known at LTC Partners & Insurance Services; in other states, as LTC Financial Partners. The corporate website is http://www.ltcfp.com.