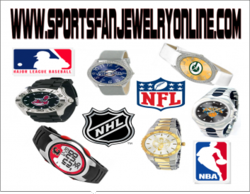 Individual commitment to a group effort, that is what makes a team work, a company work, a society work, a civilization work. Vince Lombardi
Paradise, Texas (PRWEB) August 03, 2012
Sports fans can shop for NCAA, MLB, NFL, NBA, MLS and NHL licensed team sports jewelry. Customers are encouraged to visit often as new products and specials are offered on a routine bases. Currently, Sports Jewelry fans can purchase:
Watches
ID Holders
Purses
Necklaces
Belt Buckles
Bags
Earrings
Money Clips
Wallets
Bracelets
Charms
Umbrellas
Rings
Pins
Coin Products
Key Chains
Jewelry Boxes
Diaper Bags
SF-JO will soon offer sports jewelry for the military Academies and for these areas of the armed forces: Army, Air Force, Coast Guard, Marines, and Navy. Additionally, SF-JO will provide for those that want to support public servants, Sports Jewelry supporting police officers and fireman.
SF-JO catalogs are available online at http://www.sportsfanjewelryonline.com. Fans can shop for Sports Jewelry 24 hours a day and discounts are provided to return customers. Interested customers can sign up for the SF-JO newsletter and can be notified when new Sports Jewelry products are added to inventory.