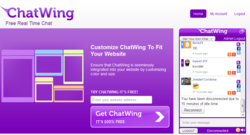 Los Angeles, CA (PRWEB) August 03, 2012
As the numbers of games have ballooned over the last two years, many gamers have managed to find ways on how to spread tips and walkthroughs. This fact is primarily based on the numbers of blogs and websites created for the sole purpose of gaming. The Chatwing development team—right from the start—has realized that the gaming niche is important. To help Jimdo game bloggers achieve communication superiority, Chatwing has launched a website chat box that can be installed to most blogs.
Chatwing's expansion to Jimdo is just a part of the company's overall marketing campaign. Chatwing's developers and researchers are looking forward to expand in various blogging communities such as Livejournal and Webnode. In the gaming niche, game bloggers can benefit from Chatwing's free chat box by having a handy communication tool that connects with many people across the world. Chatwing also offers social media integration, allowing guests and visitors to log in with their Facebook or Twitter accounts. In the coming months, Chatwing dev team will add more login options.
A free shout box can definitely make a blog or website active. In the case of gaming blogs, visitors can post their questions rather than wait for blog comments which may take a day or two. This emphasizes Chatwing's main goal: real-time communication. The Chatwing chatbox can also accommodate 600 users in real time. In a gaming blog, this simply means that up to 600 gamers can share and gather tips regarding their favorite games. The Chatwing team has also noted that bloggers who have used the shoutbox managed to gain up to 80% visibility for their blogs. This was recorded in just about a week of continuous chat application usage.
Chatwing's expansion in Jimdo has started weeks ago, tapping onto various niches of blogging. Aside from gaming, the Chatwing dev team is also looking forward to help bloggers from other niches such as travel, food, fashion, finance, sports, and many more. To make such expansion possible, Chatwing developers is planning to introduce several enhancements to their free chat widget.
About Chatwing.com
Chatwing.com specializes in the new field of website chat. Over years, the Chatwing team has introduced live chat widget for hundreds and thousands of blogs. The Chatwing application bridges people from many parts of the world, creating global synergy through the Internet. The shout box can be installed in just seconds, and it can be used for varying purposes such as leisure and Internet marketing. It also allows a user to customize the size, color, and name of the widget. Chatwing is 100% free for everyone.