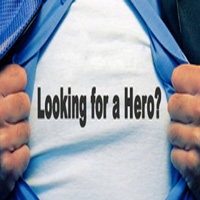 Palm Harbor, FL (PRWEB) August 03, 2012
Nominations have been tallied and beginning August 1st, 32 finalists will compete in head-to-head battle during five elimination rounds with romance readers voting to determine the ultimate winner on August 31st. Readers can vote for their favorite hero in each of the pairings in all five rounds, as the field narrows week by week until the last two heroes battle it out in the final round.
Readers know what they like in a romance hero and they made their desires known by nominating their favorites. The competing heroes span a wide array of romance sub-genres, including gay, contemporary, western, speculative fiction, historical and BDSM. These men in uniform, alpha males, shape shifters, vampires, fallen angels, Scottish lairds, Doms, and rodeo cowboys will be tested in challenges such as best first kiss, the ability to woo their love with the most compelling dinner invitation and menu, as well as their answer to the burning question "what makes a man strong".
While the fictional heroes are vying only for bragging rights, the authors who created the top 3 winning heroes will receive prizes ranging from a Nook eReader, to a professionally made book video and featured video spot in the ARe Cafe, to an ARe advertising package and cash prize valued at $1200.00.
The 32 finalist heroes are featured in the following romance titles:
Virgin Territory by Cari Quinn, Nobody's Hero by Kallypso Masters, Play Me by Jennifer Probst, Angel of Darkness by Cynthia Eden, Undeniably Yours by Shannon Stacey, Rocky Mountain Desire by Vivian Arend, Hidden Crimes by Emma Holly, A Taste for a Mate by Carrie Ann Ryan, My Daddy is a Hero 3 by Dahlia Rose, Brass Balls by Mia Watts, Sensual Chocolate by Yvette Hines, Gabriel's Rapture by Sylvain Reynard, The Governess Affair by Courtney Milan, Embrace Me At Dawn by Shayla Black, Hooked by Cat Johnson, Callum by Melissa Schroeder, Party Naked by Mari Carr, Rough Ride by Keri Ford, Impact by Cassandra Carr, Fire Balls by Tara Lain, Cade by Lilliana Hart, Hunted by Rebecca Zanetti, The Duchess of Love by Sally Mackenzie, Long Road Home by Vicki Lewis Thompson, Brook Street: Thief by Ava March, One Grave at a Time by Jeaniene Frost, Ride With Me by Ruthie Knox, Defying the Odds by Kele Moon, How To Worship A Goddess by Stephanie Julian, Cherish Your Name by Mary Calmes, Wolf Hills by Bianca D'Arc, and Burned by Eliza Gayle
Those following the contest are encouraged to use the hashtag #AReHottestHeroes on Twitter for the latest tweets and news.