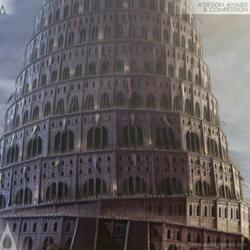 Como, Italy (PRWEB) August 02, 2012
A' Award and Competitions are proud to announce that the design Rage Over Babylon by Ziv Qual has been awarded with the noteable Silver A' Design Award at Computer Graphics and 3D Model Design Competition picked as one of the winners by the esteemed referees of the A' Design Awards & Competitions amidst thousands of participants.
About Rage Over Babylon
Ziv Qual, the designer of the awarded project Rage Over Babylon explains " The story and the sybolism behind the story of Babylon : Peace - I think the whole concept of Babylon, the city where all the cultures lived together speaking the same language and worked together for a shared goal, is the strongest symbol of peace. When you think about it, This was the last time mankind ever lived in peace. Advances/Innovation - The Tower of Babylon was probably one of mankinds greatest creations. It probably seemed impossible to create a few years before the construction begun, same as things and achievements we make today seemed impossible yesterday." Learn more at: http://www.adesignaward.com/design.php?ID=24902
The Silver A' Design Award
The Silver A' Design Award is a prestigious award given to top 5% percentile designs that has achieved an exemplary level of sublimity in design. The designs are judged by a panel of three different jury which is composed of Academic, Professional and Focus Group Members. The designs are evaluated with score normalization to remove any biases and are voted on aspects such as functionality, ergonomics, engineering, presentation, innovation, usability, fun details, technology, and any other specific points that could be considered, each of these points are further weighted for different jury groups.
About A' Design Award and Competitions
A'Design Award and Competitions, aims to highlight the excellent qualifications of best designs, design concepts and design oriented products. A' Design Award and Competitions are organized and awarded annually and internationally in multiple categories to reach a wide, design-oriented audience. To learn more visit: http://www.whatisadesignaward.com