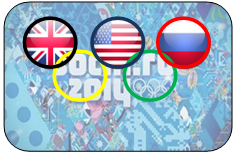 Retail Solutions helping North American / European Retailers leverage the marketing exposure for the 2014 Winter Games in Sochi, Russia.
Moscow, Russia (PRWEB) August 08, 2012
Retail Solutions, a leading European retail advisory and consulting provider intends to increase its' presence in the North American marketplace in the second half of 2012. For the next six years, Russian sport life will be hot in events: 2013 World Student Games in Kazan, 2014 Winter Olympic Games in Sochi, 2018 World Football Championship all which will take place in multiple Russian cities such as Samara, Nizhny Novgorod, Kaliningrad, Ekaterinburg, etc.
Art Vartanian, Managing Director of Retail Solutions commented: "With three of our executive partners originating from the US, a fourth and fifth from Russia and the UK, we are well positioned to guide and support North American and European retailers that are contemplating expanding their footprint into the Russian and adjoining markets." Mr. Vartanian further commented, "Over the past year, Moscow has seen an increase in US and European based retailers experimenting with a franchising model. Our experience in these markets over the past twenty years makes us a cost effective solution for US firms seeking a higher degree of corporate governance coupled with an efficient operating model."
Opportunities abound and are returning. Patrick Hopper, Partner of Retail Solutions, based in the US commented, "With our extensive retail advisory experience in the Russian market and developing markets, our team is already focusing on ways to capitalize on the 2014 Winter Olympics, in Sochi Russia, as the London Summer Olympics begin to wind down. For retailers and Consumer Product Groups (FMCG), the Olympics are an excellent opportunity to gain marketing exposure on an international level."
As retailing continues to become more global, growth opportunities for Western companies remain in the emerging markets. Joe Suran, Retail Solutions Operational Director added, "The challenge is to tap into this growth without creating an infrastructure that is cost prohibited. Our recent partnership in Romania enables us to provide more value to North American Retailers throughout the unique markets of Central and Eastern Europe as well as local market and the desire to add value to retail clients. Our partner in Romania also possesses these attributes with past ties to Carrefour, Real, major shopping centers and numerous other retailers."
Marina Sakharova of Retail Solutions added "All these sporting events stimulate construction and development of infrastructure in a number of our regional cities. What follows are tremendous opportunities for international and Russian retailers to discover the potential of the Russian regions and enter these less competitive regional markets."
####
ABOUT US:
RETAIL SOLUTIONS was founded in 2002 to provide professional advisory and consulting services for retail companies and banks, funds, private equity parties that invest in retail. Services are targeted to chain store retailers and retail investors categorized into four general categories; Big Picture Retail, Retail Operations, Financial and Partnering. Retail Solutions primarily operates in Russia, Czech Republic, Slovak Republic, with partnerships in Armenia and now Romania.
Details of Retail Solutions services can be viewed at: http://www.retailsol.com