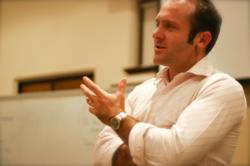 Pornography addiction is having an increasing impact on schools.
(PRWEB) August 02, 2012
Founder of popular new website stopusingpornography.com Jonathan Doyle has been working closely with a large number of schools and educators on the difficult topic of pornography addiction and its potential impact upon schools.
Having worked with tens of thousands of adolescent males in live seminar events over recent years Doyle developed a range of curriculum programs, podcasts and books on the key issues facing young people.
He states, "The seminar program gave me an increasing awareness that young men were struggling massively with feelings of anxiety and other problems related to pornography use. It seemed that they were desperate for someone to open up the topic with them. My work then began to develop with parents, teachers and school leaders."
Doyle holds a Masters Degree in Education and is currently undertaking preliminary work for his PhD in the area of adolescent development. The new website aims specifically to provide a suite of tools to both understand and to overcome pornography addiction. In the first few days after its launch it had already received thousands of visitors from around the world.
Doyle continues, "The crucial thing for people to begin to understand is that pornography is a public health issue because we know that it effects brain structure over time. Sadly, many people still think that it is some kind of neutral passtime that boys get themselves into and that it harms no one. On the contrary it has observable effects upon neural structure and, importantly, the parts of the brain that reduce inhibition."
In his seminar programs for parents and educators Doyle also makes the point that one often forgotten aspect of the problem of pornography addiction for young men is that of exhaustion. He comments, "One of the things that pornography addiction does is to overcome the satiety mechanism in the brain. For example, if you eat 30 cheeseburgers your brain is screaming at you to stop. The difference with pornography is that the endless choices and options continue to allow for the ongoing release of dopamine which overrides the brains ability to say, 'enough'. In short, we have documented evidence of students accessing for hour after hour and then missing out on sleep and proper nutrition. One result for schools is exhausted students with shattered attention spans."
A recent British Parliamentary Enquiry stated that four out of every five 16 year-old males in the United Kingdom access online pornography on a regular basis.