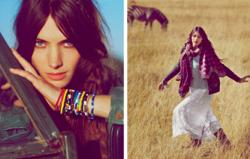 Philadelphia, PA (PRWEB) August 02, 2012
Free People, a specialty women's clothing brand, is excited to announce the release of its August catalog shot on location in South Africa in conjunction with a charity partnership and travel promotion. During the team's trip, Free People joined forces with Relate, a not-for-profit social enterprise based in Cape Town, to create one-of-a-kind beaded cause bracelets. The items, featured in the catalog, will be for sale on FreePeople.com and at all Free People brick and mortar locations. The sale of each bracelet contributes one dollar to the United Against Malaria campaign to offer life-saving mosquito nets and treatments to people living in malaria-endemic regions throughout Africa.
In further celebration of the South African-themed catalog, Free People has teamed up with Tablet Hotels to send one lucky fan and a guest to Johannesburg, South Africa. The 5-day vacation includes a stay at the Ten Bompas hotel, roundtrip airfare, and a $1,000 Free People shopping spree to get the winner ready for their trip in style. The sweepstakes is set to run August 5 - 31, 2012. Customers can enter at TabletHotels.com/FreePeople, and a winner will be selected on September 1st, 2012.
The August catalog features model Jessica Miller photographed by Guy Aroch, as she explores the landscape and celebrates its breathtaking beauty. The theme is pretty, wild, and utilitarian. Tribal prints and jewelry mimic the exotic setting, and tailored sportswear pieces keep the looks grounded in practicality for an outdoor adventure. Menswear-inspired items mix perfectly with pops of color and bohemian dresses while the styling focuses on layering to transition into fall. Scarves, outerwear, and lightweight sweaters keep things effortless and airy, but covered enough for cooler weather.
Select images from the August catalog can be downloaded here.
As a lifestyle brand, Free People incorporates experiences beyond apparel for our customer, providing outlets to live freely through travel, good will, and beyond. These special charity bracelets are truly empowering, allowing the makers to earn a sustainable income and develop new skills while contributing to the fight against malaria. Free People is proud to join Relate in their mission to create opportunities that change lives in South Africa and beyond. Additionally, Free People is also excited about sending a lucky winner on an excursion to experience South Africa in their own way.
Catalog Credits:
Model: Jessica Miller
Photographer: Guy Aroch
Hair: Patrice Delaroche
Makeup: Deanna Hagan
###
About Free People
Styling everything from dresses to intimates, Free People is a specialty clothing brand that features the latest trends and vintage collections for women who live free through fashion, art, music, and travel. Quality women's clothing, shoes, and accessories invoke attributes of femininity, spirit, and creativity with a bohemian design. The brand is a part of Urban Outfitters, Inc., an innovative specialty retail company which offers a variety of lifestyle merchandise to highly defined customer niches.
About Relate
Founded in 2008, Relate is a non-profit social enterprise based in South Africa. Using the mechanism of simple beaded bracelets made and sold through a uniquely sustainable business model, Relate creates opportunities to change lives at every stage in our process. Each handmade bracelet carries the signature "R" bead of authenticity that represents Relate's commitment to transparency and accountability. For more information, please visit http://www.Relate.org.za
About United Against Malaria
United Against Malaria is a partnership of football teams and heroes, celebrities, health and advocacy organizations, governments, corporations, and individuals who have united to win the fight against malaria. Our goal is to galvanize partners throughout the world to reach the international target of reducing deaths worldwide. For more information, please visit http://www.UnitedAgainstMalaria.org