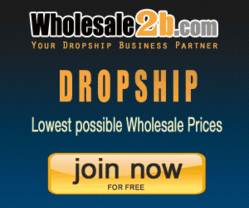 Over 700,000 Dropship Products available at the lowest possible wholesale prices.
San Diego, CA (PRWEB) August 03, 2012
It's easy to fall into the daily grind trap of handling products for websites sales. Often it is a very frustrating process of locating products, ordering, receiving, shipping, and keeping the web site constantly up to date with new product information. In the process it's very easy to become stressed and overwhelmed. Now a new ecommerce site takes all the daily grind chores away, which then provides a means for the online marketer the opportunity to take a day off or better yet a vacation now and then. Also, it makes it incredibly easy for the newcomer to online marketing to get started in the business with little capital investment.
Wholesael2b.com specializes in providing wholesale products from reputable, reliable, and professional wholesalers. Online marketers can let the experts handle inventory and focus on growing their business instead. The company tactically helps marketers avoid the painful frustration of having to keep product information up to date from suppliers, and no need to worry about inventory management as the company will manage that for you.
Selling online is very competitive and there are two major obstacles that marketers must overcome to be successful:
1. Get the lowest possible prices, which means to make a profit; you will need reliable wholesalers that can drop ship products at the lowest possible price. Wholesael2b.com helps a marketer to avoid the time consuming search all over the Internet for reliable wholesale suppliers and dropshippers.
2. Get up-to-date product data so the marketer will know exactly what they'll be getting and in a way to get their product information in the format that meet input requirements, which in many cases is nearly impossible.
Wholesale2b resolves those two problems for the online marketer. The company's job is to find the best wholesale suppliers and integrate them with wholesale2b so all a marketer needs to focus on is selling products. All integrated suppliers are reputable, reliable, and professional.
Wholesale2b master catalog of drop ship products includes 100% authentic and branded products from only the best drop shippers. This will ensure that e-marketers avoid the embarrassment of having their web sites shut down for selling trademark-infringing knock off products. All Wholesale2b products are physically warehoused in the USA for fast delivery to customers, in the USA, Canada and International.
Wholesale2b offers three different drop ship programs to meet the various needs of online marketers: there is a "Dropship Ebay Plan" for marketers who focus on auction selling, a "Dropship Website Plan for marketers who sell from their own website, and a "Dropship Data feed Plan" for marketers who sell from Amazon, ZenCart, or OpenCart.
Now is the time to take the "Daily Grind" out of your e-commerce marketing business. To learn more about Wholesale2b.com's drop ship product service click here now: