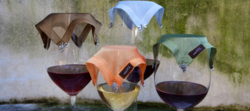 "Affordable, classy, and beautiful, the wine VEIL is the beautiful gift to give, " Kym Stelmachers, Founder & CEO of the Mrs. Network
(PRWEB) August 01, 2012
DIY Weddings® Magazine, a division of The Mrs. Network, has selected Denver based company, wine VEIL ® to be featured in their summer issue.
"We chose to feature the Wine Veil because it is a very unique product." said Kym Stelmachers, Founder & CEO of The Mrs. Network, "We are always looking for unique wedding gifts and the Wine Veil is certainly that. Affordable, classy and beautiful…the Wine Veil is a beautiful gift to give."
The wine VEIL®, recently featured on The Today Show with Hoda and Kathie Lee, was originally created to eliminate the unpleasant experience of bugs flying into your wine glass; but, due to its elegant design and made in USA quality, is quickly being recognized as the "must have" wedding registry gift.
"Since 2010, DIY Weddings Magazine has consistently raised the bar for 'brides on a budget' with concepts that rival wedding events at triple the cost"" stated Kelly Egan, Founder of wine VEIL, "We are honored to be chosen as a featured product along with other gift ideas that create such a memorable experience."
wine VEILS are sheer fabric squares with hand stitched, perfectly weighted, silver charms. Wine VEILS are available at many fine wine vineyards, high-end specialty and wedding boutiques, as well as online at http://www.wineveil.com
About Wine Veil:
Kelly Egan, known advocate and pioneer for employee programs that place job seekers with disabilities into corporate America, has recently been diagnosed with Retinal Dystrophy, a rare disease affecting her sight, but not business vision. Kelly is quickly becoming a role model for entrepreneurs with disabilities as she continues to build wine VEIL LLC into a multi-product, multi-national company.
The concept of the wine veil was conceived after the sommelier at a bistro covered the wine glasses with plastic wrap to prevent fruit flies and other insects from flying into the wine. Today wine Veil is a growing company offering elegant and functional gifts for all occasions.
Find out more at: http://www.wineveil.com
About DIY Weddings Magazine:
DIY Weddings® Magazine is a leading provider of a new innovative style of delivering digital eMagazine content. They provide inspirational and budget saving ideas to brides who have a budget of $15,000 and under. Their contributing partners are a panel of professional wedding experts and brides that give great advice and tips. Featuring do-it-yourself projects and real weddings with couples who have incorporated their own diy into their weddings. Now DIY Weddings® Magazine is available on all Apple devices through the iTunes store.
DIY Weddings® Magazine is a division of The Mrs. Network, LLC that was founded in 2010.