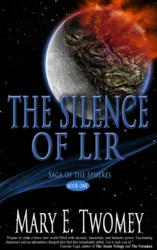 Prepare to enter a brave new world filled with mystery, immortals, and fantastic power. Fascinating characters and an adrenaline-charged plot fuel this remarkable debut. Let it suck you in. -Estevan Vega, author of The Arson Trilogy
Michigan (PRWEB) August 03, 2012
"The Silence of Lir" by Mary E. Twomey was released June 1, 2012. Her series appeals to both vegetarians and fantasy fiction fans alike in this gritty mythology.
Behind the scenes of our spinning earth are keepers of the elements who make sure that tornadoes don't destroy cities, fires don't ravage forests, earthquakes don't decimate towns, and floods don't take out humanity. They wrestle with the natural elements to ensure that the world keeps spinning smoothly on its axis.
Since the beginning of time, the Sun has been fading, and the light that shines on the earth is dimming, causing the elements to be more volatile and impossible for the keepers to control.
Now they must enlist the help of one man, Finn, to help them bring the light back to the Sun. The keepers war, the North Star steals light from the Sun, and the Moon is in disrepute. The end of existence is coming, and all the while the king, the Moon, Lir, remains silent.
Visit http://www.SagaoftheSpheres.com to purchase book one, "The Silence of Lir" and begin the adventure of the Saga today.