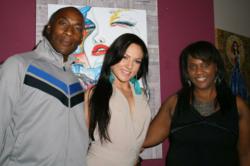 "Overcome! Overjoyed! is a story of healing, forgiving, loving and overcoming."
North Hollywood, CA (PRWEB) August 06, 2012
Writer, producer and director Charlia Boyer assembled a phenomenal cast of performers who graced the stage at the opening of "Overcome, Overjoyed" on Saturday, July 28th. Madonna's former lead dancer Carlton Wilborn (Madonna's Blond Ambition Tour and The Girlie Show Tour) gave a soul-stirring performance as one of the stars of this new stage play about healing, forgiving, loving and overcoming. This production is entertaining for all ages, filled with good music and a great inspirational message.
Boyer says the message in the play is strong and clear. "It deals with a husband who looses his wife to breast cancer and is now left to raise his four children alone, taking you on a heart-wrenching journey showing the twists and turns of his life.
"His children; Gregory, Jr., Paris, Siena and Venice, are all very talented and do everything in their power to keep the memory of their mother alive."
Attendees waited in anticipation to see the production, and comfortably packed the theater. Free roaming press attended the event for an opportunity to interview cast members, as well as special guest pro troupe member Sharna Burgess from 'Dancing With The Stars.' Additional cast members included: Charlia Boyer (writer, producer, director), Na'Kia Bell Smith (Grey's Anatomy), Bruce Schechter (Aslan the Lion in Narnia "The Lion the Witch and the Wardrobe"), Cindy Clark (Nickelodeon's All That), Michael Monte Q. Williams (The Wiz), Audrianna Bartholomew (Chorister for the LA Children's Chorus Concert), Michaela Reed (Boys & Girls Club Idol Winner), actress Efe', actors DeShaude Barner and Hunter Green.
After much success of the opening, the production is scheduled to run again in September 2012 in New Mexico, NM, and December 2012 in San Diego, CA. For ticket information call ChaRo Productions at 424-888-2770 or visit http://www.charoproductions.com for stage play schedule.
Production crew included: Gail Jhonson (musical director), Cassie Crump (choreographer), Carmen Chavez (assistant choreographer), dance ensemble Marissa Mayer, Raymond Mason Semien, Jermiah Tatum, Chris Smith, April Thomas, vocal ensemble Jordyn-Nia Halei Barber, Aja Floyd, Angela Lopez, Taiwan Pierce, Cara Rashkin and Naja E. Smith.
The event was sponsored by Illy (Issimo Italian Espresso Coffee), Shades of Color, Altera Real Estate, T. ROSE Entertainment, Charyn Harris for City Council LA District 9, El Portal Theatre, NoHo Arts District, Herban.net, KeepYourForm.com, Gail Jhonson, Yolanda Bell, musical group FIDELODY, Jeff Byrd Music Production and Revelations Speak Radio. Be sure to Google ChaRo Productions.
For media inquiries, please contact Deborah Griffin at deborahmckj(at)yahoo(dot)com or 323-692-2881.
RELATED LINK:
"Overcome, Overjoyed" behind the scene video: http://vimeo.com/46074748