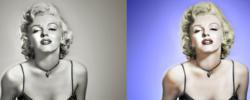 What she did for popularizing lip gloss and red lipstick helps every woman look more feminine and attractive.
New York, NY (PRWEB) August 02, 2012
Marilyn Monroe's lips are sealed in history. This is not referring to the validation of any still debated death conspiracy, alleged affairs with JFK and others, or the newly resurfacing question, "Was Marilyn Monroe a lesbian?" Marilyn Monroe's lips are sealed as part of history 50 years after her passing because she was a pioneer by creating her groundbreaking sexy and spectacular look for them.
"Marilyn Monroe has been gone 50 years, and I've been doing permanent makeup half that time," admits Sally Hayes. "Marilyn's name is still the one most mentioned by women who come to me wanting permanent lip makeup so their lips can look more like hers."
Monroe remains an icon today for her impact on beauty, style, fashion, and cosmetics, as much as for her roles in 30 films as an actress. She is credited for inventing the concept of lip gloss and paving the way for the popular product widely used today. Because she worked so much on adding sex appeal to her image, appearance, and personal brand, she popularized the provocative, wet-lips look. Various Marilyn Monroe biographies report she developed her own unique system of applying a formula of multiple shades and layers of lipstick, petroleum jelly, and even beeswax to create the effect of her attention-getting lips.
"I tell women all the time they have it so much easier than Marilyn Monroe," says Hayes, who has done tens of thousands of permanent makeup procedures enhancing the appearance of lips, eyebrows, and eyeliner with natural-looking results. "With properly applied permanent lip makeup, there is no embarrassing smudging, smearing, or rubbing off. I simply can't imagine how much time, effort, and worry Marilyn Monroe put in every single day to perfecting her amazing looking lips especially since she was in the spotlight everywhere she went."
Hayes says in Monroe's case, because of already having beautiful lips the legendary sex symbol could have used permanent lipstick mostly for the benefits of saving time and effort, and enjoying added confidence in the appearance of her lips knowing they would consistently have the unique look she created.
"I would have been licking my own lips for a chance to work on Marilyn Monroe. It is fascinating what she did with her lips," says Hayes. "As an innovator of beauty, she overextended her lip liner on top whether or not it was intentional. Most women wear it the other way around. The only thing I would have done differently for Marilyn is make the sides on her bottom lips bigger, wider, and more pronounced. This would add balance to the plump, pouty look she wanted for them."
Hayes believes every woman today who strives to unleash her "Inner Marilyn," owes a debt of gratitude to the lovely legend. "If there is a poster girl for beautiful lips, Marilyn Monroe is it. What she did for popularizing lip gloss and red lipstick helps every woman look more feminine and attractive. I wonder if she is looking down somewhere saying, 'So all I'd have to do now is get permanent makeup, thrown on some lip gloss and I'm good for the whole day? What's a girl to do with all this free time?"
About Sally Hayes Permanent Makeup
Sally Hayes is widely recognized as the nation's leading permanent makeup expert artist. She has performed tens of thousands of successful permanent makeup procedures creating full lip color, eyebrow tattoos, permanent eyeliner, and cosmetic camouflage. Many of the top plastic surgeons endorse and refer their patients to her. She has offices in New York, NY, Scottsdale, AZ, Las Vegas, NV, and Los Angeles, CA, the city where Monroe was buried. Her popular website is viewed as the leading authority for online information about permanent makeup.
To see the complete Modernizing Marilyn Monroe Series, visit http://www.PermanentMakeup.com.