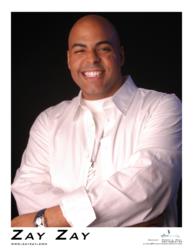 I feel it's a calling to bring awareness to certain issues facing a system seemingly ignored by other media outlets," states Zay Zay
WASHINGTON, DC (PRWEB) August 02, 2012
Internationally recognized celebrity host Zay Zay of ZayZay.com will take the pulse on education at the request of his loyal audience on Thursday, August 2, 2012 at Busboys and Poets located on 5th and K in DC from 6 p.m to 9 p.m ET. Zay Zay will be joined by panelists, which include National Society of High School Scholars ("NSHSS") President and co-founder James W. Lewis, founding board chair of NSHSS Claes Nobel of the Nobel Peace Prize family, and District of Columbia educator Victoria Ballard and member of StudentsFirst, and Carla Urbina political Strategist and contributor to Fox Latino.
"I feel it's a calling to bring awareness to certain issues facing a system seemingly ignored by other media outlets. Our country is somewhat injured, currently, and besides action, the cure is hard work and time; perhaps even a little more time than my generation has. It would behoove us to do as much as possible to prepare the generations that follow to preserve and develop that which we before them have built. The first step to that end is, and always will be, education," states Zay Zay.
This event will be one of a series that members of the National Society of High School Scholars will be able to participate with their parents in addition to those in the community who are interested. Members of the audience will be able to interact with panelist during the live taping of the show.
"ZayZay.com Presents" is expected to air on U-verse and Comcast initially in Northern Georgia on AIBTV in September. It will also air on the website for online audience to watch on their computers or smartphones. The purpose of airing this program is to help inform voters on one of the hot button issues that will be blazing on the campaign trail. ZayZay.com Presents is a collaboration of Effective Media Group and Aquino Media Company.
For more information on Zayzay.com log on to the website, or download the app for your phone or follow them on Facebook and Twitter. To get an up close and personal opportunity to meet Zay Zay, contact Carmen Luisa Coya at 404 408-2103 or email her at clcoya(at)effectivemediagroup(dot)com.
About ZayZay.com
ZayZay.com is a fun and interactive online show where the audience has a chance to connect with the host, Zay Zay. The show gives the audience an opportunity to communicate and view headlines at his or her leisure on a variety of platforms such as TV, radio, web and phone apps. ZayZay.Com will not only focus on bridging the black brown divide in the framework of the entertain-ment arena, but it will also address thought provoking issues that are contemporary to all audiences with-out compromise and with a smile. ZayZay.com brings compelling topics that are targeted to all gen-erations, such as up-to-date knowledge on movies, music, and all things entertainment. ZayZay.com is Your Source of Entertainment News. For more information contact Carmen Luisa Coya at 404 408-2103 or email her at clcoya(at)effectivemediagroup(dot)com.
About Students First
Led by Michelle Rhee, the former Chancellor of D.C. Public Schools, StudentsFirst formed in 2010 in response to an increasing demand for a better education system in America. Our grass-roots movement is designed to mobilize parents, teachers, students, administrators, and citizens throughout country, and to channel their energy to produce meaningful results on both the local and national level. StudentsFirst is a 501(c)4 organization based in Sacramento, CA.
If you have any questions about StudentsFirst or their mission, feel free to contact them at 916-287-9220. If you are a member of the media and would like to speak with our public relations representative, contact mediarequests(at)studentsfirst(dot)org .
About The National Society of High School Scholars (NSHSS)
NSHSS was established to highlight the accomplishments of high school students who have demonstrated outstanding leadership, scholarship, and community commitment, as well as to foster their continued success. NSHSS has inducted over 800,000 members from over 160 countries. NSHSS provides a wide array of member benefits that prepare students for both college and careers. For more information visit http://www.nshss.org.