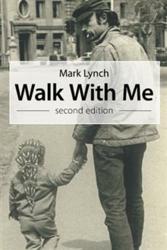 I expose the myths and lies that many in our world believe as truth
BRAINTREE, Mass. (PRWEB) August 04, 2012
In this newly-revised edition of Mark Lynch's autobiography "Walk With Me: Second Edition" (published by WestBow Press), the author adds even more detail to the story of his life and, amazingly, two deaths.
" Walk With Me" is filled with many of Lynch's extraordinary experiences, struggles, tragedies and blessings. Lynch is no stranger to death, and he reveals what happened in two near-death experiences and his visit to paradise in the afterlife. In his book he shares intimately his confrontation with God, and how this confrontation sparked a personal relationship with the Lord that not only changed Lynch's life but also the lives of his family, friends and acquaintances.
An excerpt from "Walk With Me":
"The reality of life is but a fading illusion. Every second, every minute, every day brings us closer to our unavoidable death. The circumstances and people that enter our lives shape and mold us into who we are to finally become. There is a reason you are alive here on Earth. We are all not here by accident. There is also more to coincidences than you may realize. Whether you chose to believe it or not, you are here for a purpose. There is a reason for everything that happens in life, even when things do not seem to make sense."
"I expose the myths and lies that many in our world believe as truth," Lynch writes. "I break information down so that anyone can easily understand it and know the real truth about who we all are, where we come from and where we are headed."
About the Author
Mark Lynch grew up on the streets of Boston. Lynch has passed his 60th birthday and likes to tell others that he is "still functioning on this side of the dirt." He has been happily married for over 40 years to his teenage sweetheart, Agnes Marie. Together they have four adult children, and have also taken full guardianship of another.
Lynch is a veteran who served his military obligation during the Vietnam War era, in a special government mission in Antarctica. Lynch is semi-retired from his own real estate company, and he and his wife are the founders and operators of the Braintree Community Food Pantry.
WestBow Press is a strategic self-publishing alliance of Thomas Nelson, Inc., the world's largest Christian publisher, and Author Solutions, Inc. (ASI) — the world leader in the popular self-publishing industry segment. Through this partnership, authors benefit from the rich publishing heritage of Thomas Nelson and the speed-to-market advantages of the ASI self-publishing model. Titles published through WestBow Press are evaluated for sales potential and considered for publication under the Thomas Nelson imprint. Thomas Nelson, Inc. continues to "inspire the world" with distribution of products in more than 100 countries worldwide. For more information, or to start publishing today, visit http://www.westbowpress.com or call (866)-928-1240. Follow us @westbowpress on Twitter for the latest news.