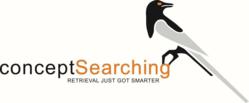 As Microsoft's only Managed Partner within the SharePoint ecosystem delivering taxonomy management and auto-classification, Concept Searching's participation in the TAP positions us well to continue to lead the market
McLean, VA, US and Stevenage, UK (PRWEB) August 06, 2012
Concept Searching, a global leader in semantic metadata generation, auto-classification, and taxonomy management software, and developer of the Smart Content Framework™, is pleased to announce that its core products, conceptSearch and conceptClassifier for SharePoint, are up and running for SharePoint 2013.
Concept Searching is a member of the exclusive Microsoft Technology Adoption Program (TAP). Membership is by invitation only, and it has enabled Concept Searching to make its products ready for the release of SharePoint 2013. TAP is an early beta program for select partners and customers that Microsoft has determined are important for the successful release of the next version of SharePoint. Concept Searching is part of an elite group of Microsoft customers and partners worldwide invited to participate.
Both conceptSearch and conceptClassifier for SharePoint are available as BETA releases for SharePoint 2013, and are key components in Concept Searching's Smart Content Framework™. With conceptClassifier for SharePoint's ability to integrate natively with SharePoint products and technologies, including SharePoint 2007 and SharePoint 2010, and deliver metadata generation, classification, and taxonomy capabilities, Concept Searching is the only Microsoft partner that can provide customers with an integrated infrastructure solution to address a wide range of content access and management needs.
conceptClassifier for SharePoint remains the only automatic document classification and enterprise class taxonomy management solution that integrates natively with the SharePoint Term Store, fully supporting managed metadata properties and takes advantage of the new functionality that will be available in the Term Store with the new release.
"As Microsoft's only Managed Partner within the SharePoint ecosystem delivering taxonomy management and auto-classification, Concept Searching's participation in the TAP positions us well to continue to lead the market in the identification of intelligent metadata, auto-classification, and taxonomy management. The result is a powerful infrastructure component that can address the challenges of managing content and improve any line of business application that relies on unstructured content and metadata management," commented Martin Garland, President of Concept Searching.
"Leveraging the SharePoint platform, and through our native integration, we are able to deliver real value to our clients. With the continued explosion of unstructured content and the revamped social networking capabilities in SharePoint 2013, it is becoming a business issue for our clients to manage content and protect these corporate assets, which we do very well. We are also embracing Microsoft's new 'Agave' application program interfaces for extending Office applications, and we are currently building applications for the marketplace to be released in line with Microsoft's release of the new version," Garland concluded.
Going beyond a technology solution, Concept Searching's Smart Content Framework™ for information governance is a platform independent toolset that provides the enterprise framework to mitigate risk, automate processes, manage information, protect privacy, and address compliance issues.
Underlying the Smart Content Framework™, the technologies provide the ability to transparently tag content, classify it to organizational taxonomies, preserve and protect information through the automatic identification of records and privacy data, and act as a migration tool. The result is one set of technologies that improves search, provides an enterprise metadata repository, automates records management, ensures compliance, protects and secures data, and facilitates migration.
Follow Concept Searching: http://www.twitter.com/conceptsearch
About Concept Searching
Founded in 2002, Concept Searching provides software products that deliver conceptual metadata generation, auto-classification, and powerful taxonomy management from the desktop to the enterprise. Concept Searching, developer of the Smart Content Framework™, provides organizations with a method to mitigate risk, automate processes, manage information, protect privacy, and address compliance issues. This information governance infrastructure framework utilizes a set of technologies that encompasses the entire portfolio of information assets, resulting in increased organizational performance and agility.
Concept Searching is the only platform independent statistical metadata generation and classification software company in the world that uses concept extraction and compound term processing to significantly improve access to unstructured information. The Concept Searching Microsoft suite of technologies runs natively in SharePoint 2010, FAST, Windows Server 2008 R2 FCI, and in Microsoft Office applications.
The building blocks of Concept Searching's Smart Content Framework™ are being used by organizations from a diverse number of industries including the US Army, the US Air Force, the UK MOD, Baker Hughes, Deloitte, Logica, NASA Safety Center, OppenheimerFunds, Point B, Perkins+Will, Parsons Brinckerhoff, Burns & McDonnell, MarketResearch.com, the US Department of Health & Human Services, Transport for London, the London Fire Brigade, the National Transportation Safety Board, and Xerox.
Headquartered in the US with offices in the UK, South Africa and Canada, Concept Searching solves the problem of finding, organizing, and managing information capital far beyond search and retrieval. The technologies are being used to drive intelligent migration, enable effective records management, identify and lock down sensitive information and enhance governance. For more information about Concept Searching's solutions and technologies please visit http://www.conceptsearching.com
All product and company names herein may be trademarks of their respective owners.