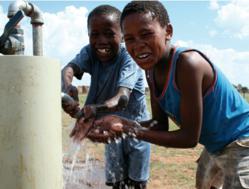 (PRWEB UK) 6 August 2012
PHS Waterlogic have partnered with The One Brand, to launch the One Watercooler to businesses and other commercial sites in the UK.
Profit from the sale of all One products funds humanitarian projects in developing countries, and to date has raised over £6.5 million and changed over 1.5 million lives. All funds are administered by The One Foundation, UK Registered Charity No. 1118810.
Why partner with One?
Sales of all One products fund like-for-like projects in developing countries. One Water products fund clean water projects, One Plasters fund community first aid boxes and bicycle ambulances, One Eggs fund community egg farming projects, etc.
There are one billion people in the world without access to clean water. So as Europe's largest supplier of mains fed drinking water dispensers, it seemed right that we contribute to this, and help less fortunate people in the world get access to clean, safe drinking water - just as we do for our customers.
PHS Waterlogic funds first PlayPump® in Africa
Last year, sales of One Watercoolers funded a PlayPump® water system at Khojane Primary School, Lesotho, Africa. A Playpump is an ingenious specially crafted children's roundabout. As children spin, fresh, clean water is pumped from deep underground into a storage tank for use by the entire community.
Khojane Primary School has 250 pupils and also shares the water with a further 1,800 adults and children in the community. The children previously had to travel long distances to collect water and bring it to school for drinking and cooking. The water holes were often dirty and used by the local cattle, which caused illness within the community. Access to fresh, clean water has changed their lives. Now they are able to attend lessons and concentrate on their education. They have a safer, healthier life – and lots of fun playing on the PlayPump® too.
Do One good thing and make a real difference
Simply by selecting our Totalcare™ service package on a Waterlogic 4 or WL2500 One branded watercooler, you can contribute to these life changing projects. For every order, PHS Waterlogic makes a donation of, typically, £25 directly to The One Foundation.
"PHS Waterlogic are delighted to work with the One Foundation and raise funds for PlayPump® water systems," explains David Matthews, Managing Director at PHS Waterlogic. "Communities in Africa will have clean, safe drinking water just like we provide for our customers".
Duncan Goose, Founder of Global Ethics and One commented, "In PHS Waterlogic and David's team we've found such a committed and motivated bunch of people that I'm sure together we're going to change thousands of lives by keeping people hydrated here in the UK, and at schools in Africa too".