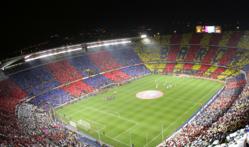 Barcelona will offer Real Madrid a run for their money in another fantastic season
(PRWEB UK) 3 August 2012
Sports fans feeling at a loose end once the London Olympics finishes later this month should check out FC Barcelona's fixture list for next season in order to plan their next sporting fix.
While the Spanish football squad sent to the Olympics may have disappointed, it should also be noted that the squad sent to the Olympics was a long way from the Euro 2012 winning squad. This season sees a new coach in Tito Vilanova, after a highly successful four years under Pep Guardiola, and there is every sign that Barça's success will continue.
However, Barcelona can offer more than just football; as well as having one of the best football teams on earth the city boasts a treasure trove of museums, art galleries, architecture, and a climate that is tourist friendly for much of the year. It also has award-winning restaurants and bars and an extremely vibrant nightlife that often doesn't get going until well after midnight.
David Leigh who runs Simply Barcelona Tickets, a leading website for the sale of tickets to Barça matches, says "Just because the Olympics will have finished doesn't mean sports lovers need to miss out. Barcelona is a fantastic city to visit and FC Barcelona is always a great team to watch. While the club does have a new coach, he is hardly an unknown, and I predict that Barcelona will offer Real Madrid a run for their money in another fantastic season".
The fixture list for the 2012-2013 season was drawn last month and Barça tickets are now available from Simply Barcelona Tickets. Much of the focus of the season is the two "clasicos" against Real Madrid, but the season is rarely won or lost on those and any match provides plenty of on-pitch entertainment.
David Leigh is the owner of Simply Barcelona Tickets, a leading provider of tickets for FC Barcelona. You can order tickets from the website, or sign up for the free weekly newsletter. For more information, visit http://www.simplybarcelonatickets.co.uk.