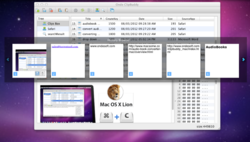 Manage copy paste on Mac
(PRWEB) August 04, 2012
Ondesoft announces today a new and improved release of their popular clipboard software, ClipBuddy. This new release, according to Ondesoft designers, will include all the features users loved in the past versions, plus a massive addition of new features that will make ClipBuddy even more powerful and versatile.
The text trees, a key feature from the last release, are reportedly back and better than ever. They still group clippings together to make finding them quick and easy, but now users can set certain trees to be "blocked" in case certain trees need to be kept separate from others.
The clip history has also been completely reworked, as well. Now, users can view recent clips with the drop down menu - Clip History which displays up to 200 recent clippings. And also, all the clippings of the selected tree can also be accessed from an easy to use visual panel - the History Browser, saving time and easy to scan. These clippings can even be pasted directly out of either the Clip History or the History Browser, and, as always, ClipBuddy allows the user to choose whether to paste with formatting or without.
But Ondesoft developers have said two of the key new features they're most excited about are actually the two that were easiest to implement. The Open Link feature does exactly what every user has been wanting, and exactly what its name implies: it opens the website from the link that ClipBuddy automatically saves when you pull a clipping from the Internet. And now ClipBuddy developers have added a "Search in Google" feature that allows the user to instantly search the text of their clipping through Google, making ClipBuddy even more powerful and useful in every day situations. These capabilities, coupled with the new fully customizable hotkey functions, make integrating ClipBuddy in to a user's daily routine even simpler and, frankly, a no-brainer.
With these features and many more, ClipBuddy developers are excited to see just what users can do with this new and improved edition. Interested users can head on over to to http://www.ondesoft.com/clipbuddy_mac/index.html download the latest trial or purchase the software directly.