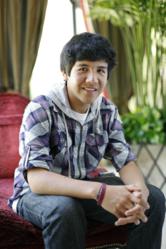 LAS VEGAS, NV (Worldwide Competition on Microsoft Office) (PRWEB) August 02, 2012
Certiport (http://www.certiport.com), the official test delivery solution provider for the global workforce and academic markets, today announced the 2012 World Champions in Microsoft Excel, culminating the most popular technology skills competition on Microsoft Office to date. Eduardo Velarde Polar of Peru was named the World Champion in Microsoft Excel 2007.
The 2012 Certiport Worldwide Competition on Microsoft Office attracted more than 285,000 unique candidates from 53 countries who competed to demonstrate their mastery of Microsoft Office products. 113 student finalists participated in the final round of competition.
The top 10 Microsoft Excel 2007 finalists are:

Eduardo Velarde Polar, Peru
Cho Ye-Eun, South Korea
Alessandro Fornaroli, Italy
Xu GuangYuan, China
Xie Zhong-Xing, Taiwan
Daniel Lara Moir, Guatemala
Panatda Bunmanan, Thailand
Gabriela Tavera, United States
Aníbal Steinmetz, Chile
Fernando Hidalgo, Ecuador
Certiport recognized Eduardo Velarde Polar at the Worldwide Competition on Microsoft Office Student Awards Ceremony in Las Vegas, and presented him with a $5,000 scholarship.
"With more than a half a million exam uploads this year, the growing popularity of the Microsoft Office competition reflects the desire for students to master these key productivity skills worldwide," said Lutz Ziob, General Manager of Microsoft Learning, Microsoft Corp. "The winners have studied and become experts in Microsoft Word, Microsoft Excel, and Microsoft PowerPoint, and now they can apply those skills as they further their academic careers and enter the workforce. Knowing industry-leading Microsoft programs inside and out will help them be more productive and I believe it will be a shining star on their resume for the rest of their life."
In the concluding round, competitors participated in timed, unique tests to demonstrate their ability to create spreadsheets for the information presented in Microsoft Excel.
"In its 11th year, the Worldwide Competition on Microsoft Office has seen a 58 percent increase in the number of participants compared to last year, and students worldwide are excited about this competition," said Ray Kelly, CEO, Certiport. "More than 3 million individuals have now taken a Microsoft Office Specialist exam to validate their skills, so these winners are truly the best of the best. They will hold the title of "World Champion" forever, a valuable asset as they continue their academic and professional careers."
Preview and download quality photos of this year's winners, along with images of the student awards ceremony at: http://www.flickr.com/photos/certiport.
About Certiport
Certiport, a Pearson VUE company, is the leading provider of certification exam development, delivery and program management services delivered through an expansive network of over 12,000 Certiport Authorized Testing Centers worldwide. Certiport manages a sophisticated portfolio of leading certification programs including: the official Microsoft Office Specialist certification program, the Microsoft Technology Associate certification program, the Adobe® Certified Associate certification program, the HP Accredited Technical Associate, the CompTIA Strata™ IT Fundamentals, the Autodesk Certified User certification program, the Intuit QuickBooks Certified User certification program and the Internet and Computing Core Certification (IC³®). Certiport reliably delivers over two million tests each year throughout the secondary, post-secondary, workforce and corporate technology markets in more than 158 countries and 27 languages worldwide. For more information, please visit http://www.certiport.com or follow Certiport on Twitter at http://www.twitter.com/certiport.
"Certiport," "IC³" and "MeasureUp" are registered trademarks of Certiport, Inc. in the United States and other countries. The names of actual companies and products mentioned herein may be the trademarks of their respective owners.