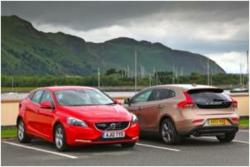 Like other premium brands, Volvo is making life harder for the taxman with low emissions launches
(PRWEB UK) 3 August 2012
There has been a 32pc rise in corporate registrations of Volvo models so far this year, including leasing. And Volvo's new Business Sales Academy, set up to support corporate sales, is expected to benefit further from the newly launched V40 (read the review - V40 flatlines company car tax).
Volvo's corporate sales success is based on a influx of new models with excellent CO2 emissions, backed by sales support for the dealer network that includes a tax training programme making advice and expertise available to company car buyers.
Together these factors have led to an increase in Volvo's dealer based corporate and leasing first half year registrations from 5,327 in 2011 to 7,013 this year and there seems to be no slowdown in demand.
New launches have been crucial to Volvo's success. The S60 and V60 ranges are offered with a choice of four diesel engines ranging from 115hp to 215hp, all emitting 120g/km or less of CO2 - remarkably good for cars in this class and giving correspondingly low company car tax rates.
Examples of Volvo's progress in emissions and company car tax
Model Engine CO2 Company car tax Tax payable at 20% MPG
V40 115BHP 94g/km 13% £543 78.8mpg
177BHP 114g/km 16% £792 65.7mpg
S60/V60 115BHP 119g/km 17% £897 62.6mpg
215BHP 120g/km 18% £1143 61.4mpg
With 70% of the new V40's sales predicted to be through corporate channels, every dealer and member of the sales staff has attended a week long launch of the premium hatchback.
Volvo launched its Business Sales Academy to further help dealers build relationships with customers and increase sales. The academy will also help dealers support corporate customers' in all areas of sales and aftersales - a need highlighted in research Volvo conducted in 2011.
The academy forms part of Volvo's strategy for transparent communication channels and creates a seamless link from the Head Office right through to the dealer and then to the customer. To date over 300 Volvo staff have attended and successfully completed the Business Sales Consultant course.
Selwyn Cooper, Volvo Car UK's National Corporate Operations Manager, said, "We are committed to providing our customers with relevant and accurate advice as they search for vehicles that will compliment their business and contribute to company savings as well as providing their drivers with cars they are happy to drive."
Keep up to date with business car news for breaking stories and watch the business car videos to get behind the stories.