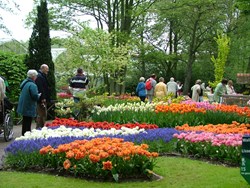 Tourists are offered multiple choices to different attractive destinations with the best and cheapest service.
(PRWEB) August 03, 2012
To cater for the high demand of tourism, many travel services have been emerging. However, Smile Travel Vietnam is mentioned as the most reliable and best site. Not only does it provide the high quality of services, but it also constantly launches big offers to attract more customers. Especially, this is the time for tourists to get surprisingly cheap tours, ranging from a 1-day package to a 1-month package. Besides, using the service of Smile Travel Vietnam, customers are also offered other great services including tour guides, hotels, airline tickets, visas, and so on. The discount can range from 30 to 50 % for each type. Take a look at Da Lat to discover the reason why many tourists fall in love with this romantic and beautiful city.
Da Lat is named as Travel Paradise in Vietnam. Therefore, this city sees a large number of domestic and international tourists annually. It is likely that more and more people will travel to Da Lat in the coming time.
Located 300 kilometers from the north of Ho Chi Minh City. Da Lat is a totally different world from the rest of Vietnam. Da Lat, meaning "the river of Lat people", offers a good change of atmosphere with the cool climate, even in summer. Arriving at this place, tourists can enjoy wonderful excursions such as visiting traditional villages, cycling through pine forests, and abseiling down pristine waterfalls. Different from other cities, Da Lat is fresh and peaceful with its awesome landscape, delicious cuisine, friendly people, cool air and gentle pace of life. Therefore, Da Lat seems to be an entirely different country in Southeast Asia. Called as the city of eternal spring, it must be the best choice for honeymooners and retirees. It is said that tourists will have unforgettable memories once coming to Love Valley. Besides, Xuan Huong Lake and Da Lat Botanical Garden are also the ideal spots that can make tourists breathless for moments.
A special thing that builds the great picture of Da Lat is its architecture. Once being the capital of the Federation of Indochina, Da Lat owns the permanent beauty of French architecture. Getting a trip here, people will have chances to visit Emperor Bao Dai's Palace, the Buddhist pagodas, and well-preserved French villas. Being the land of flowers and love, it is especially suitable for couples and families. Coffee is also the drink that touches many visitors' souls. There will be nothing greater than enjoying a cup of coffee and the fresh air in an evergreen garden in the morning in Da Lat.
Da Lat, with the own magic enchantment, becomes the passion of experienced tourists. It is sure that tourists will enjoy a great vacation once having a trip here. Especially, they will get big offers when booking soon through the website of Smile Travel Vietnam. This means that tourists will have chances to get discounts up to 50 %. The tour package of Riding on Bike around Da Lat in 1 day just costs only $15 - $22. Besides, tourists are offered multiple choices to different attractive destinations with the best and cheapest service.