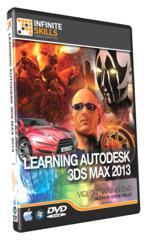 Learn 3DS Max 2013 at your own pace
(PRWEB) August 04, 2012
Software training developer InfiniteSkills Inc. has announced a new 3DS Max 2013 Tutorial Video course, a complete array of hands-on lessons designed to teach professional object modeling, mapping, lighting, animation and rendering techniques from start to finish.
Beginning with an introduction to core design principles and a walkthrough of the viewport-based interface, the 17 chapters of 3DS Max tutorials move through the step by step creation of environments and models, and then showing how to create combined, animated scenes. The 18.5 hours of 3DS Max training is available to purchase on DVD-ROM or as a direct download from the InfiniteSkills website for $99.95 USD.
[Beginners Autodesk 3DS Max 2013 Tutorials - Training Video Course by InfiniteSkills
The 3DS Max 2013 Training Video course was developed by Steve Nelle, who has worked as a 3D animator for the last 17 years and authored numerous 3DS Max training guides. He has spent years as an instructor in college classrooms, helping students learn how to use industry-leading 3D software to meet commercial standards for television, the web and video game design.
"Steve is an educator through and through," said Colin Boyd, sales director for InfiniteSkills. "He knows the common trouble areas for beginners, and he knows how to really show off the program's best assets and make the challenge of learning fun."
After covering the program's user interface and basic file management, the 3DS Max 2013 offers a practical introduction to object modeling, showing how to move, clone and scale and how to add 3D primitives and 2D shapes to quickly put down the bare framework of a design. The training then shows how to perform extrusions, lofts and deformations to refine the designs further.
From here, the training moves into environment design, showing how to construct a room using previously demonstrated techniques, before adding complexity through sub object selection and modification. The 3DS Max tutorials cover the program's most important modifiers users need to know, such as freeform deformation, hair and fur, flex and geometry effects.
The last chapters of the course are devoted to animation, rendering and cinematics. Viewers learn how to work with materials and UV mapping, 3DS Max lighting, cameras and keyframe animation. The Max tutorials then explore Active Shade, Mental Ray and iRay rendering, with additional lessons on special effects using particle systems to create wind, gravity and steam.
The 3DS Max 2013 tutorials use hands-on projects to highlight the program's functionality and workflow potential at each stage. In addition to smaller single-function examples, the course integrates a comprehensive central project of an animated bowling alley scene, built step by step and covering everything from the creation of individual bowling pins to the rolling animation of knocking them down.
The complete 3DS Max 2013 Training Video series can now be ordered from the InfiniteSkills website. The DVD-ROM and downloadable editions retail for $99.95 USD with purchasing options available worldwide.
More information and free demo tutorials can be found on the 3DS Max 2013 training page:
http://www.infiniteskills.com/training/learning-autodesk-3ds-max-2013.html
About InfiniteSkills Inc
InfiniteSkills is an innovator in the field of technology software training. The firm's progressive approach teaches complex topics by focusing on task-oriented training.This allows users to intuitively grasp a wide range of skills they can seamlessly integrate into their daily workflow. With DVDs, digital downloads, and iPad editions of its training titles, the company delivers professional quality training to customers anywhere they want to learn.