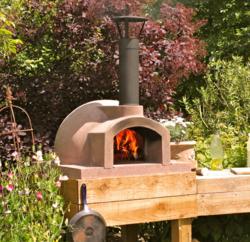 "We haven't cooked indoors all summer, despite the weather, I'm hooked on wood fired cooking and my partner and I find it very relaxing and quite fun." Sally Grimshaw, Stone Bake Oven Company Customer
(PRWEB) August 07, 2012
Wood fired ovens, also known as stone pizza ovens, are the latest cooking trend sweeping the nation producing more than just great food. Wood fired ovens, which are an environmentally conscious method of cooking, are becoming a great way battle modern day stress.
As many a wise man has once said, the method of reducing stress lies in taking in life's simple pleasures and un-complicating modern day living. With evidence supporting the connection between stress and illness, its more important than ever in the current economic climate to take more 'down time,' after all, life is meant to be for living.
Wood fired cooking using wood burning pizza ovens is the latest foodie trend sweeping the nation, and for more than just flavourful food. A great excuse for a party, use a wood fired oven to experiment with food and to cater for family gatherings. Preparing food and cooking it is something many people find therapeutic, but a wood fired oven ads the additional element of interaction with fire and food.
Thought of as time consuming and difficult, wood fired cooking is quite the opposite. Cooking pizza in less than 90 seconds, and slicing a third off roast cooking times, simply move food closer to the fire for higher temperatures and move the food away for lower, wood fired cooking is simple. Sally Grimshaw who purchased a wood burning oven from the Stone Bake Oven Company was surprised how it changed cooking at home, "we haven't cooked indoors all summer, despite the weather, I'm hooked on wood fired cooking and my partner and I find it very relaxing and quite fun."
Once limited to celebrities and chefs due to their hefty price tags, high quality wood fired ovens can now be found on the market at an affordable price, but don't be seduced by cheap imitations as this may result in disappointment. To learn more about wood fired cooking and for a range of indoor and outdoor pizza ovens handcast in the UK, visit http://www.thestonebakeovencompany.co.uk